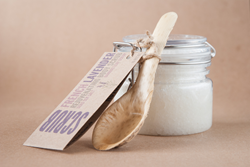 Dead Sea salts have so many therapeutic qualities I knew we had to use these premium salts in our body scrubs.
Montrose, CA (PRWEB) February 01, 2015
No Tox Body-Home-Life announces a therapeutic body scrub using Dead Sea salts from Beer Sheva, Israel. The southern end of the Dead Sea contains salts with the highest mineral content: a unique composition of magnesium, potassium and calcium chlorides, plus high levels of bromides. Exfoliation sloughs away old and tired skin, leaving behind a soft, silky feel that lasts through several baths.
Developed by Sandee Ferman, founder of No Tox Body-Home-Life, the therapeutic body scrub is the latest in her line of natural body care products. "Customers love the gentle charcoal facial bars and asked for a body scrub. When I found that Dead Sea salts had so many therapeutic qualities I knew we had to use these premium salts."
The product base includes massage oils for glide and pure essential oils for a light fragrance. No preservatives or other additives are used, making this appropriate for a wide range of skin types. Legs, feet, hands and arms are the targeted areas the scrub was designed for, although back and belly also benefit from its skin-scrubbing results.
"Our market research shows our body scrub is a favorite for all ages and all skin types," reports Ferman. "Especially during dry winter months, men and women want to have soft, smooth skin, and this helps them achieve it."
Founded in 2014, No Tox Body-Home-Life products are available online and in local farmer's markets in Los Angeles, CA. For more information about the properties of Dead Sea salts, visit the body scrub product page.