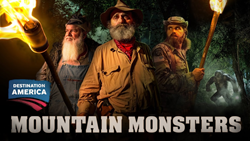 'Absolutely loved Creature Weekend! Had a blast guys, thanks so much...for putting together such a great event! I will definitely be there next year.' – Shannon LeGro, Creature Weekend Attendee
Cambridge, OH (PRWEB) February 03, 2015
Creature Weekend is proud to announce that the cast of Destination America's hit TV series "Mountain Monsters" will be joining the speaker lineup at the 2015 Creature Weekend Conference held at Salt Fork State Park in Cambridge, Ohio.
Mountain Monsters is a weekly show that airs on Destination America, and follows the Appalachian Investigators of Mysterious Sightings (AIMS) as they defend their mountain community from mysterious monsters that have spawned countless sightings in the Appalachian wilderness for generations.
AIMS was founded by John "Trapper" Tice, Jeff Headlee and Willy McQuillian. Longtime friends, the three discovered that they shared the same passion for the folklore of Appalachia, including tales of beasts that purportedly roam the Appalachian Mountain region. Any skepticism that they had soon dissipated as the three began having their own encounters with these creatures. Eventually, the three decided to pool their resources and the result was the formation of the AIMS group. The group later expanded to six members with the addition of Joe "Huckleberry" Lott, "Wild Bill" Neff and Jake "Buck" Lowe.
As stated on their website, the mission of AIMS is to "investigate mysterious sightings of creatures and phenomena in the Appalachian Regions, as reported by individuals who are frequently scared that they will be laughed at and ridiculed for what they saw. Upon investigating these reports we will move to track, trap and capture these creatures. In the end we will either know that our witness actually saw a mysterious beast or that no beast exists. We want to help these people to have peace of mind and know that they are not alone in their mysterious encounters."
Each episode of "Mountain Monsters" displays the group's ingenuity at tracking and trap-making. More information about Destination America's "Mountain Monsters" can be found at http://www.destinationamerica.com/tv-shows/mountain-monsters/
Trapper and the whole AIMS team of "Mountain Monsters" will be available for autograph signing and photo opportunities throughout the weekend. They will be in attendance at the Friday night private "Dinner with the Speakers" event as well as the conference on Saturday. Weather permitting, there will be a special "Mountain Monsters Safari" conducted on Saturday night following the conclusion of the conference. At this event, AIMS will lead a small group of attendees on a night expedition in search of the elusive Sasquatch at Salt Fork State Park. For a complete schedule of activities, please refer to http://www.creatureweekend.com/schedule.html. The schedule is constantly evolving, so check back frequently for updates.
Destination America is the only TV network dedicated to all-American entertainment and celebrating the people, places, and stories of the United States. Destination America features travel, food, adventure, home, and natural history, with original series like BBQ Pitmasters; A Haunting; Mountain Monsters; Ghost Asylum; Buying Alaska; and Railroad Alaska. For more information, please visit DestinationAmerica.com, facebook.com/DestinationAmerica, or twitter.com/DestAmerica.
About Creature Weekend: Creature Weekend is the nation's largest annual Cryptozoology Conference held in Cambridge, Ohio. Each year, speakers from a cross-section of the field of Cryptozoology give presentations on various cryptids including Bigfoot, Yeti, Dogmen, and other creatures which defy science and the imaginationl. Discounted Conference Tickets are available online while they last. For more information and a complete schedule of events, please visit http://www.creatureweekend.com/ or email martin(at)creatureweekend(dot)com or call 740-888-1313.
"Absolutely LOVED Creature Weekend! Had a blast guys, thanks so much … for putting together such a great event! I will definitely be there next year. Highly recommended to be in attendance...nothing but super nice people present and fascinating information in these discussions." – Shannon LeGro, Creature Weekend Attendee