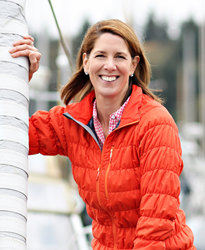 Our brand recognition and exposure is unmatched allowing me to represent our island lifestyle to a global audience. ~ Senior Global Real Estate Advisor, Leah Applewhite
Bainbridge Island, Washington (PRWEB) February 01, 2015
Realogics Sotheby's International Realty (RSIR), the Pacific Northwest's largest affiliate for the fast-growing real estate network announced today the appointment of Leah Applewhite to their Bainbridge Island branch office. Drawing upon nearly two decades of real estate experience on Bainbridge Island, Applewhite now represents her clients' at home and afar as a Senior Global Real Estate Advisor.
"I've admired Leah and her many accomplishments for several years and we are thrilled to be working together," said Stacy Jones, Owner and Vice President of Realogics Sotheby's International Realty. "While Leah is a quintessential islander, she's extremely well-travelled and has a broad perspective on business and real estate trends, making this appointment a natural fit."
Experienced in all property types and price points, Jones says Applewhite is especially well qualified to advise buyers and sellers in matters concerning waterfront properties along Bainbridge Island's some 53 miles of coastline. As an avid sailor, environmental supporter and former NOAA (National Oceanic Atmospheric Administration) HAZMAT response team member, Applewhite spearheaded a non-profit oil spill response cooperative for the San Juan Islands and is a trusted opinion leader on shoreline matters. Likewise she was an invited member of the Bainbridge Island citizen committee for the update of the Master Shoreline Plan, founding board member of the Bainbridge Island Wooden Boat Festival, and joins RSIR as a Luxury Waterfront Marketing Specialist.
"My clients and I are excited to leverage the many resources and established network of Realogics Sotheby's International Realty," says Applewhite. "I've watched RSIR grow quickly with the rise of interstate and international interest in our area and I'll contribute to those trends. Our brand recognition and exposure is unmatched allowing me to represent our island lifestyle to a global audience."
Applewhite says many international families are seeking the island's nationally-ranked school system and she predicts an increase in demand for second (or multiple) home ownership, especially for Californian's that will make Washington their primary address for preferred tax reasons.
"We offer a compelling value proposition that's up to half the cost of similar homes on Lake Washington," adds Applewhite. "We provide instant access to Puget Sound and some of the world's best boating environment. It's all just half an hour from downtown Seattle – one of the fastest growing economies in the US."
Representing the best of Bainbridge Island living, Applewhite is consistently honored by Seattle Magazine amongst peers for "Best in Customer Satisfaction".
###
About Realogics Sotheby's International Realty (http://www.RSIR.com) - Artfully uniting extraordinary homes with extraordinary lives Realogics Sotheby's International Realty is a leading global sales and marketing brokerage firm in the Pacific Northwest. The Puget Sound Business Journal recognizes RSIR among the top ten largest brokerages in the region by total dollar volume. The boutique real estate firm of 120+ brokers and employees consistently ranks among the top producing within the markets that they serve with branches in downtown Seattle, Bainbridge Island, Kirkland and coming soon to Issaquah.