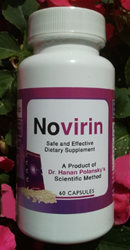 The CBCD recommends that individuals infected with the latent CMV boost their immune systems with Novirin or Gene-Eden-VIR. - Greg Bennett, CBCD
Rochester, NY (PRWEB) February 02, 2015
Medical studies show that the human cytomegalovirus (CMV), one of many DNA viruses, is linked to the cause of various types of cancer, including breast cancer. Dr. Cecilia Soderberg-Naucler and colleagues wrote in a study that "emerging evidences … suggest that CMV is highly prevalent in patients with breast, colon, and prostate cancer, rhabdomyosarcoma, hepatocellular cancer, salivary gland tumors, neuroblastoma and brain tumors." (1) This research is consistent with the theory of Microcompetition, proposed by Dr. Hanan Polansky in 2003. (See Microcompetition with Foreign DNA and the Origin of Chronic Disease, published in 2003) (2) Dr. Polansky is the director of the Center for the Biology of Chronic Disease (CBCD). According to the Theory of Microcompetition, the DNA of a latent virus, such as the CMV, causes cancer. For example, Dr. Khoury and colleagues wrote in a study that "the association between infection with DNA viruses and neoplasia (the process of tumor formation) is well established in a variety of cancer types. (See the Journal of Virology, from August 2013) (3) Dr. Khoury is from the Department of Hematopathology, MD Anderson Cancer Center in Houston, Texas.
What is the Microcompetition Theory?
According to Dr. Hanan Polansky, foreign DNA fragments, called N-boxes, cause most major diseases.
When foreign N-boxes enter the body (naturally, or artificially) they end up in the nucleus, where they attract scarce genetic resources. It is interesting that many common latent viruses have strong N-boxes in their DNA. Interestingly, the cytomegalovirus has the strongest N-box known to science.
In the nucleus, "Microcompetition" between the foreign N-boxes and the human N-boxes in the human genes can lead to a major disease.
Many studies, such as one published in the journal Cancer Research in 2002, have shown that "The integration of HPV DNA into the host cell genome is considered an important step in malignant progression and is commonly identified in noninvasive and invasive carcinomas associated with high-risk types HPV16 and HPV18." (See Cancer Research, from December 2002) (4) In other words, viruses like HPV (and the CMV) insert their own DNA into a cell's nucleus. Once there, these pieces of viral DNA then compete with the human cell's own DNA, and the virus normally wins. When that happens, disease occurs and symptoms show up.
As predicted by Dr. Hanan Polansky, many studies found CMV DNA in a variety of cancerous tumors.
The authors of the study mentioned above found that "over 90% of these tumors have been shown to be positive for CMV proteins and nucleic acids as determined by methods including in situ hybridisation, PCR, electron microscopy, DNA and RNA sequencing, immunostaining of tissue specimens, flow cytometry analyses of tumor cells from surgical resections and western blot analysis." (1) In other words, the presence of CMV in many types of cancer tumors was confirmed through various types of testing. Dr. Soderberg-Naucler is from the Department of Medicine at the Center for Molecular Medicine at the Karolinska University Hospital in Stockholm, Sweden.
The Theory of Microcompetition offers hope for people infected with viruses that establish long-term latent infections. If one boosts the immune system against these latent viruses, they can reduce their chances for developing many different forms of cancer. Most people harbor latent viruses such as the cytomegalovirus, the Epstein Barr virus, HPV, HBV, and HSV. According to the Microcompetition Theory, these people should boost their immune system against these viruses.
One can find a more detailed explanation of the Microcompetition Theory by visiting http://www.cbcd.net. Dr. Polansky's book is also available as a free download from the website, here: http://www.cbcd.net/Book.php
"Cytomegalovirus (CMV) is a common virus belonging to the herpes virus family, which infects 70%-100% of the world′s population. After a primary infection that is generally mild or asymptomatic in the immunocompetent host, this virus establishes latency." (1)
The CBCD recommends that individuals infected with the latent CMV boost their immune systems with Novirin or Gene-Eden-VIR. A simple blood test will confirm whether an individual is infected or not.
The formula of Novirin and Gene-Eden-VIR was tested by Hanan Polansky and Edan Itzkovitz from the CBCD in two clinical studies that followed FDA guidelines. The studies showed that the Novirin and Gene-Eden-VIR formula is effective against the CMV and other viruses. The clinical studies were published in the peer reviewed, medical journal Pharmacology & Pharmacy, the first, in a special edition on Advances in Antiviral Drugs. Study authors wrote that, "individuals infected with the CMV…reported a safe decrease in their symptoms following treatment with Gene-Eden-VIR." (5) The study authors also wrote that "we observed a statistically significant decrease in the severity, duration, and frequency of symptoms." (5)
Both products can be ordered online on the Novirin and Gene-Eden-VIR websites.
Novirin and Gene-Eden-VIR are natural antiviral dietary supplements. Their formula contains five natural ingredients: Selenium, Camellia Sinesis Extract, Quercetin, Cinnamomum Extract, and Licorice Extract. The first ingredient is a trace element, and the other four are plant extracts. Each ingredient and its dose was chosen through a scientific approach. Scientists at polyDNA, the company that invented and patented the formula, scanned thousands of scientific and medical papers published in various medical and scientific journals, and identified the safest and most effective natural ingredients against latent viruses. To date, Novirin and Gene-Eden-VIR are the only natural antiviral products on the market with published clinical studies that support their claims.
Interested individuals can view the two published studies here, http://cbcd.net/Gene-Eden-VIR-Clinical-Study.php and http://cbcd.net/Gene-Eden-VIR-Decreases-Fatigue-Clinical-Study.php.
References:
(1) Söderberg-Nauclér C and Johnsen JI "Cytomegalovirus in human brain tumors: Role in pathogenesis and potential treatment options." Published in advance, World J Exp Med. 2015 February 20; 5(1): 1-10.
http://www.wjgnet.com/2220-315x/full/v5/i1/1.htm
(2) Polansky, H. "Microcompetition with Foreign DNA and the Origin of Chronic Disease." ISBN: 0974046302. Published in 2003.
http://www.cbcd.net/Book.php
(3) Khoury JD1, Tannir NM, Williams MD, Chen Y, Yao H, Zhang J, Thompson EJ; TCGA Network, Meric-Bernstam F, Medeiros LJ, Weinstein JN, Su X. "Landscape of DNA virus associations across human malignant cancers: analysis of 3,775 cases using RNA-Seq." J Virol. 2013 Aug;87(16):8916-26.:
http://www.ncbi.nlm.nih.gov/pubmed/23740984
(4) William Alazawi2, Mark Pett2, Barbara Arch, Laurie Scott, Tom Freeman, Margaret A. Stanley, and Nicholas Coleman3 "Changes in Cervical Keratinocyte Gene Expression Associated with Integration of Human Papillomavirus 16." Cancer Res December 1, 2002 62; 6959
http://www.ncbi.nlm.nih.gov/pubmed/?term=Changes+in+Cervical+Keratinocyte+Gene+Expression+Associated+with+Integration+of+Human+Papillomavirus+16+1
(5) Polansky, H. Itzkovitz, E. Gene-Eden-VIR Is Antiviral: Results of a Post Marketing Clinical Study. Published in September 2013.
http://www.scirp.org/journal/PaperInformation.aspx?PaperID=36101#.U-s9ouOSz90