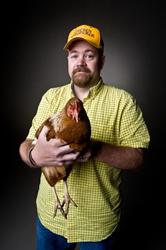 A Webinar & Twitter Chat hosted by Andy Schneider "The Chicken Whisperer" on February 26, 2015
(PRWEB) February 02, 2015
Protecting your backyard birds from disease is always important, but with avian influenza recently found in the Pacific flyway, it is a very timely topic. The U.S. Department of Agriculture is hosting a webinar and Twitter chat with experts to help new and veteran poultry owners learn more about maintaining healthy flocks.
The hour-long webinar, "Tips for Raising Healthy Backyard Flocks: Hear from the Experts," will take place on Thursday, February 26 at 2 p.m. EST. To guarantee a place at the webinar, register now at healthybirdswebinar.com and then enter the password: Chickens. A Twitter chat will run alongside the webinar. To join the Twitter chat use #Chickenchat 2015. To submit advance questions for either event, post them on Healthy Harry's Facebook page.
The event is hosted by Andy Schneider, also known as "The Chicken Whisperer®," a national media personality who serves as the Biosecurity For Birds campaign spokesperson and Dr. Jo Anna Quinn, a veterinary medical officer and poultry health specialist with the USDA Animal and Plant Health Inspection Service (APHIS). Dr. Colin Basler, an epidemiologist from the Centers for Disease Control (CDC) also will participate.
These experts will share information and answer questions about raising backyard poultry, how to keep flocks free from disease and predators and how to protect people from disease your birds might spread. They will explore such topics as what to expect from birds during the spring and summer and how to protect flocks from wild birds.
The USDA webinar and chat is the largest event held during Bird Health Awareness Week (Feb. 22-28). USDA APHIS runs Bird Health Awareness Week as part of its Biosecurity For Birds outreach campaign to help educate backyard bird owners about steps they can take to protect their flocks from disease.
For more information about Biosecurity For Birds please visit our website: heatlhybirds.aphis.usda.gov
-30-
Media representatives may contact Joelle Hayden at joelle(dot)r(dot)hayden(at)aphis(dot)usda(dot)gov (301) 851-4040 or Pam Goldstein at pgoldstein(at)diversitymc(dot)com 973-377-0300, Ext. 14.