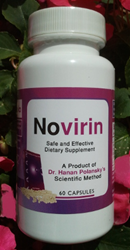 Bee venom treatments against HPV can be painful. "The live bee is held (with tweezers or some other small instrument) by the person administering the bee venom, who then places the bee on the part of the patient's body to be treated. (2)
Rochester, NY (PRWEB) February 03, 2015
"Infected with the human papillomavirus (HPV)? The Center for the Biology of Chronic Disease (CBCD), which tested the formula of Novirin and Gene-Eden-VIR in two post-marketing clinical studies, recommends taking these natural antiviral supplements," says Greg Bennett, CBCD.
New research shows that bee venom may work as a treatment against certain strains of the human papillomavirus (HPV). Dr. Yong-Wan Kim and colleagues wrote in a study that "BV treatments (bee venom treatments) resulted in a more significant suppression of cell growth in HPV 16-infected cells." (1) Dr. Kim is from the College of Medicine at The Catholic University of Korea in Seoul, Republic of Korea. Additionally, "the mRNA expression (RNA molecules that convey genetic information) and (viral) protein levels of HPV16 … were significantly decreased by BV." (1) In other words, scientists found that bee venom worked to noticeably reduce HPV16's ability to transfer genetic information to cells, and also limited the virus's ability to make viral proteins. This resulted in "restricting tumor growth in vivo (tested in live animals) and were much more effective on the suppression of tumor growth." (1)
However, bee venom treatments against HPV can be painful. "The live bee is held (with tweezers or some other small instrument) by the person administering the bee venom, who then places the bee on the part of the patient's body to be treated, at which point the bee reflexively stings. Depending on the condition, the treatment schedule can vary. The venom can also be given via a syringe, rather than directly from the bee." (See bidmc.org, Last reviewed June 2013 by Michael Woods, MD) (2) The CBCD therefore recommends that individuals who prefer a pain-free method take Novirin or Gene-Eden-VIR to help their immune system target the latent human papillomavirus (HPV). These natural oral supplements are completely painless and were clinically proven to reduce symptoms of an HPV infection in two separate studies that followed FDA guidelines.
Click to learn more about HPV symptoms.
The formula of Novirin and Gene-Eden-VIR was tested by Hanan Polansky and Edan Itzkovitz from the CBCD in two clinical studies that followed FDA guidelines. The studies showed that the Novirin and Gene-Eden-VIR formula is effective against the HPV and other viruses. The clinical studies were published in the peer reviewed, medical journal Pharmacology & Pharmacy, the first, in a special edition on Advances in Antiviral Drugs. Study authors wrote that, "individuals infected with the HPV…reported a safe decrease in their symptoms following treatment with Gene-Eden-VIR." (3) The study authors also wrote that "we observed a statistically significant decrease in the severity, duration, and frequency of symptoms." (3)
Both products can be ordered online on the Novirin and Gene-Eden-VIR websites.
Novirin and Gene-Eden-VIR are natural antiviral dietary supplements. Their formula contains five natural ingredients: Selenium, Camellia Sinesis Extract, Quercetin, Cinnamomum Extract, and Licorice Extract. The first ingredient is a trace element, and the other four are plant extracts. Each ingredient and its dose was chosen through a scientific approach. Scientists at polyDNA, the company that invented and patented the formula, scanned thousands of scientific and medical papers published in various medical and scientific journals, and identified the safest and most effective natural ingredients against latent viruses. To date, Novirin and Gene-Eden-VIR are the only natural antiviral products on the market with published clinical studies that support their claims.
"The medicinal use of bee venom apparently dates back to ancient Egypt and is reported in the history of Europe and Asia. Hippocrates used bee venom to treat joint pain and arthritis. In more modern times, interest in the effects of bee venom was renewed in 1888 with the publication of a clinical study conducted in Europe on its effect on rheumatism. Since then, interest in bee venom treatment has ebbed and flowed." (2)
"There are numerous conditions that bee venom has been proposed to treat, such as: chronic injuries, such as bursitis and tendonitis, hay fever, removal of scar tissue, gout, shingles, (and) burns." (2) As evidenced above, scientists are now interested in exploring the effects of bee venom against the human papillomavirus.
The CDC notes that "HPV may … be passed on during oral sex and genital-to-genital contact. HPV can be passed on between straight and same-sex partners-even when the infected partner has no signs or symptoms." (See the CDC's Website, last updated on February 5, 2013) (4).
Are there other treatments available against the HPV?
"There are no drugs approved against the HPV. Current treatments include procedures, such as cryotherapy, conization, and the Loop Electrosurgical Excision Procedure (LEEP). These procedures use liquid nitrogen, a surgical knife (scalpel), a carbon dioxide (CO2) laser, or electrical current to remove the abnormal growths caused by the HPV. These growths include cells that harbor the active virus. The procedures do not target cells with the latent virus. Since they do not remove the latent virus, these procedures only produce a temporary remission." (3) In contrast, Novirin and Gene-Eden-VIR were designed to target the latent HPV and are completely pain free.
Click to learn more about Novirin and HPV, and Gene-Eden-VIR and HPV.
All orders of Gene-Eden-VIR are completely confidential and no information is shared or sold to any third party. Privacy is assured.
Reference:
(1) Yong-Wan Kim Pankaj Kumar Chaturvedi Sung Nam Chun Yang Gu Lee Woong Shick Ahn "Honeybee venom possesses anticancer and antiviral effects by differential inhibition of HPV E6 and E7 expression on cervical cancer cell line." Oncology Reports, Published online on: Wednesday, January 28, 2015.
http://www.spandidos-publications.com/10.3892/or.2015.3760
(2) Alan, R. Beth Israel Deaconess Medical Center - Medicinal Uses of Bee Venom. Last reviewed June 2013 by Michael Woods, MD.
http://www.bidmc.org/YourHealth/ConditionsAZ/HPV.aspx?ChunkID=13504
(3) Polansky, H. Itzkovitz, E. Gene-Eden-VIR Is Antiviral: Results of a Post Marketing Clinical Study. Published in September 2013.
http://www.scirp.org/journal/PaperInformation.aspx?PaperID=36101#.U-s9ouOSz90
(4) CDC - Human Papillomavirus (HPV) - What is HPV? Last updated on February 5, 2013.
http://www.cdc.gov/hpv/whatishpv.html