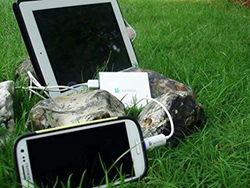 My phone never goes without a charge!
(PRWEB) February 01, 2015
"K2R-803" was featured on NewsWatch as part of its monthly Tech Report, which features the latest and coolest technology products available to consumers. Mallory Sofastaii, a technology expert and reporter for NewsWatch, conducted the product review and shared with viewers how this device charges any gadget that has a USB outlet.
K2R-803 is a portable device that can charge anything that is chargeable with a USB cable. The device comes with two free smart USB cables with LED lights on the tip. When the red light comes on, it means that device is charging. And when a when a blue light comes on, it means that the gadget is charged. K2R-803 has the ability to charge two devices at once, and it can charge an iPhone three and a half times with its large capacity lithium ion battery.
So if a person is caught out in the wilderness or on a deserted island, this device can hold its charge for 3 months. And if it stops working after that time, it's okay because it's backed by a 3 year guarantee. The portable charger only costs $45.99 on Amazon. And there are additional products from K2R Technology, including durable cell phone care mounts and more.
To learn more, visit http://www.amazon.com/dp/B00LADNVB6 today.
About NewsWatch
NewsWatch is a weekly 30-minute consumer oriented television show that airs on the History Channel, FYI Network, and ION Network. NewsWatch regularly features top technology products and services, mobile applications for iOS, Android, and Windows devices, unique and beautiful travel destinations around the world, health and medical tips, and entertainment interviews on the show. NewsWatch airs on the History Channel at 6:00 – 6:30 AM ET/PT and on the FYI Network from 7:00 – 7:30 AM ET.
NewsWatch is located in the greater Washington, DC area and has been on air for over 25 years. For more information or to watch the most recent episode, visit http://newswatchtv.com/tech-report.html.