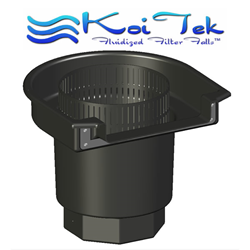 "I have always said that the algae growth is there because of poor water quality", states Richard Moore, Owner of KoiTek Filter Systems. "If you improve the water quality the algae will go away on its own"
Independence, Missouri (PRWEB) February 04, 2015
KoiTek Filter Systems is a new company with new ideas. They have just released a new product, Fluidized FilterFalls™, for koi pond enthusiasts. The Fluidized FilterFalls is a self-cleaning biological filter incorporated in a waterfall for koi ponds that will handle a feeding capacity of over 1/2 pound of food per day while ensuring the best possible water parameters.
This product is available right now at KoiPondFever.com/fluidized-filterfalls. Water Landscape Supply, a distributor in Iowa, will have the product in their 2015 spring catalog available to their dealers. Dealers and distributors can inquire about this product at KoiTekFilters.com/dealer-inquiries.
Having a biological filter or mechanical filter incorporated in a waterfall is not a new idea. The traditional waterfall filter includes static filter media that has to be cleaned on a regular basis. Besides cleaning the solids that are collected in the filter media, helpful denitrifying bacteria is also rinsed away in the process. This makes the traditional waterfall filter very inefficient as a biological filter. What is new and different about the Fluidized FilterFalls is the fact that the filter media is constantly in motion creating a moving filter bed. This waterfall filter uses a combination of Kaldnes K1 filter media and diffused air to provide maximum biological filtration and oxygenation. Because the Kaldnes K1 media is always in motion the process is self-cleaning and requires no maintenance. This allows the filter to reach optimum effectiveness without the disturbance of regular maintenance, avoiding unnecessary loss of bacteria within the filter. As the Kaldnes media circulates in the basket, it causes old dead bacteria on the outside to be removed, making space for new younger heavier feeding bacteria to colonize. The inner surface of the media is protected which enables colonies of bacteria to mature. This combination of young and mature bacteria provides maximum denitrification.
Algae is the number one problem in koi ponds and water gardens today. Whether it is micro algae that is free floating and turns the water green or macro algae that grows on every surface, algae is the weed of the koi pond that destroys the natural beauty. Frustrated koi pond owners constantly deal with this unsightly problem by using chemicals and add on devises such as UV clarifiers and external filters. "I have always said that the algae growth is there because of poor water quality", states Richard Moore, Owner of KoiTek Filter Systems. "If you improve the water quality the algae will go away on its own". Chemicals and UV clarifiers only mask the problem of why the algae is there to begin with. External filters have to be backwashed on a regular basis and also need to be quite large to handle the biological load. Until now, most of the attention has been paid to mechanical filtration in the construction of the koi pond and very little to the biological filtration. As more koi are added to the pond and the koi grow from 6 inches to 24 inches, the biological filtration becomes inadequate. The KoiTek Fluidized FilterFalls is scaled to handle a feeding capacity of over 1/2 pound of food per day. This equals feeding an 11 pound bag of food in 22 days, which is an enormous amount of food. This eliminates the need to upgrade the filter because of fish population. The waterfall filter can be easily disguised in the rockwork of the waterfall and is virtually maintenance free. It also adds an incredible amount of oxygen to the water. For more information visit KoiTekFilters.com