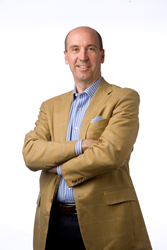 Banking executives need to become what I call 'Exponential Executives.'
Milwaukee, WI (PRWEB) February 02, 2015
Futurist Jack Uldrich's job isn't just about clarifying the top trends that are coming. He also aims to help companies leverage technological advances to their advantage, and unleash underlying philosophies that help organizations embrace change. "The future is predictably unpredictable," but he also says, "executives attitudes and management philosophies can help them and their organizations soar through the myriad of changes that will be coming their way." To that end, Uldrich has been invited as the keynote speaker for this year's "BE" Conference in Milwaukee addressing executives in the banking industry on February 2nd.
The WBA's theme of "Banking in 2020 and Beyond" makes for a perfect diving board for Uldrich's keynote "Foresight 20/20: Ten Trends Transforming Tomorrow." Uldrich will draw on highlights from his upcoming book: "Business as Unusual: How to Future-Proof Your Business Against Tomorrow's Trends, Today," He will also share insights on trends such as the Internet of things, Big Data, nanotechnology, mobile banking and the Big AHA with WBA audience members.
When it comes to finance, Uldrich says, "Banking executives need to become what I call 'Exponential Executives.' That is leaders who understand that as impressive as past technological advances have been—the ATM, online banking and mobile banking, etc—they are just the beginning. Banking Interactions will continue to evolve as customers' physical and virtual worlds become intertwined, and social networks and mobile platforms will transform customers' banking experiences and expectations. Still other advances will create an environment where a premium is placed on unconventional thinking and risk-taking."
A highly acclaimed futurist and trend expert, Uldrich has spoken all over the world to a variety of industries and organizations. He has appeared on CNN, MSNBC, and National Public Radio and is a guest commentator on the Discovery Channel's "FutureScape."
In addition to addressing the WBA, Uldrich has addressed financial clients such as Wells Fargo, CoBank, the Detroit Economic Forum, AgBank and most recently he spoke at the annual Institutional Investor Forum held in Deer Valley, Utah.
Parties interested in learning more about Jack Uldrich, his books, his daily blog or his speaking availability are encouraged to visit his website. Media wishing to know more about the event or interviewing Jack can contact Amy Tomczyk at (651) 343.0660.