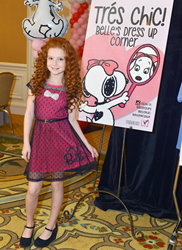 I was really excited to host this early Valentine's party with Snoopy and his adorable sister Belle
(PRWEB) February 01, 2015
Can Charlie Brown ever win the attention of his beloved Little Red-Haired Girl? Indeed he did on Saturday, January 31, when the Little Red-Haired Girl herself—aka Francesca Capaldi, the 10-year-old actress who plays the character in the upcoming Peanuts feature film—co-hosted a Peanuts-themed Valentine's party with Snoopy and his sister Belle at the Park Hyatt Hotel in Carlsbad.
Capaldi, known to TV viewers as Chloe James on Disney's Dog With a Blog, hosted dozens of her friends, including Skai Jackson (Jessie), Merit Leighton (A Tiger's Tale), Marlow Peyton (Candybar) and Aubrey Miller (Spare Parts).
Guests tried on the latest Snoopy and his sister Belle fashions from Target, danced to DJ-provided tunes, and decorated cupcakes with DecoPac decorations. Of course, they also enjoyed watching the classic Peanuts special, Be My Valentine, Charlie Brown, set to air on ABC alongside A Charlie Brown Valentine on February 13th at 8pmEST/7pmCT.
"I was really excited to host this early Valentine's party with Snoopy and his adorable sister Belle —it's pretty much the best way to celebrate Valentine's Day, ever!" says Capaldi. "My friends and I had a great time trying on clothes and making Valentine's…and eating chocolate, of course!"
After the party fun, the happy guests went home with goodie bags filled with Peanuts treats, including Snoopy and Belle apparel from Target, DVDs of the movies from Warner Home Video, Be Awesome books from Running Press, Nestlé's candy, and valentines from Galerie.
On November 6th, 2015, Capaldi co-stars as the voice of The Little Red-Haired Girl in The Peanuts Movie, as Charlie Brown, Snoopy, Lucy, Linus and the rest of the beloved "Peanuts" gang make their big-screen debut, like they've never been seen before, in state of the art 3D animation. Snoopy, the world's most lovable beagle – and flying ace – embarks upon his greatest mission as he takes to the skies to pursue his arch-nemesis The Red Baron, while his best pal, Charlie Brown, begins his own epic quest. From the imagination of Charles M. Schulz and the creators of the ICE AGE films, THE PEANUTS MOVIE will prove that every underdog has his day.