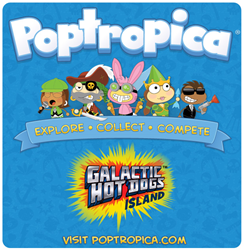 It is great fun to introduce Cosmoe, Princes Dagger and their friends from 'Galactic Hot Dogs' to the world of Poptropica.
BOSTON, Mass. (PRWEB) February 02, 2015
Today Poptropica unveiled its first new Island of 2015 with the Early Access Launch for Poptropica Members of "Galactic Hot Dogs Island." Non-Members will have access to a limited demo of the Island before they can play the entire experience on February 19, 2015. The zaniest Poptropica adventure yet, "Galactic Hot Dogs Island" is based on the hit illustrated novel published on Funbrain.com, the site that debuted the bestselling "Diary of a Wimpy Kid" series online.
When Poptropica Players arrive on "Galactic Hot Dogs Island," they will meet five friends: Cosmoe the Earth-Boy, a heroic, adventure-seeking 13-year-old; Goober the Symbiotic Blob, a rubbery, shape-shifting creature who is symbiotically attached to Cosmoe's arm; Big Humphree, a hulking alien; F.R.E.D., their handy-but-grumpy little robot; and Princess Dagger, a half-evil, half-awesome princess. Together this crazy crew travels the universe aboard a spaceship – the Neon Wiener.
Lincoln Peirce, creator of the bestselling "Big Nate" series, called "Galactic Hot Dogs," "an insanely entertaining, eye-popping adventure."
Kids can read Book 1 of "Galactic Hot Dogs" on Funbrain. Galactic Hot Dogs is written by Max Brallier and illustrated by Rachel Maguire. In addition to becoming an Island on Poptropica, kids will be able to follow along with the adventures of Cosmoe and friends in a book coming out on May 5, 2015.
"It is great fun to introduce Cosmoe, Princes Dagger and their friends from 'Galactic Hot Dogs' to the world of Poptropica," said Jess M. Brallier, publisher of Poptropica. "They will take players on an imaginative and thrilling exploration of space, friendship, bad guys, young romance and the business of selling hot dogs across the galaxy."
While "Galactic Hot Dogs Island" is free to all players, Poptropica Members will have access to a Galactic Space Suit and Galactic Hot Dogs poster customized with their avatar.
Hundreds of millions of kids have visited Poptropica since its launch nearly eight years ago, and the number grows every day. Poptropica players come from more than 200 different countries and territories and have their web browsers set to more than 100 different languages.
Kids can stay up to date on news about upcoming new Islands and other exciting developments in the world of Poptropica on the official Poptropica blog. Parents can keep up to date on new Island releases and features on Poptropica by following the Poptropica Creators on youtube.com/poptropicacreators, facebook.com/OfficialPoptropica, plus.google.com/+poptropica, or at Twitter.com/poptropica.
About Poptropica (http://www.poptropica.com)
Poptropica is a virtual world available for the desktop, Apple, and Android devices, in which kids explore and play in complete safety. Every month, millions of kids from around the world are entertained and informed by Poptropica's engaging quests, stories and games.
Kids create a "Poptropican" character to travel the many Islands of Poptropica and use gaming literacy to enjoy a narrative that is often rooted in factual history. Problem-solving skills are honed as kids discover and solve mysteries unique to each Island. Kids can also unleash their imagination with Poptropica Realms. They can build, destroy, and create Realms of their own design which they can share with the Poptropica Creators.
There are always new areas to explore in this ever-expanding world where kids can collect objects, read digital books and comics, watch movies and compete in head-to-head competition. Parents can always trust that their children are playing – and learning – in a safe online and mobile environment.
Poptropica is published by Pearson, the world's leading learning company.
Apple is a trademark of Apple Inc., registered in the U.S. and other countries.
Android is a trademark of Google Inc.