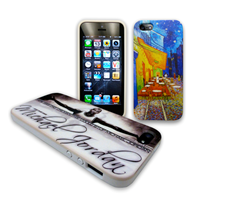 The iPhone 5 Slider Case showcases excellent engineering... while most customizable phone cases offer limited protection, the Slider protects the phone from all sides, fully covering all corners and buttons.
Chicago, IL (PRWEB) February 03, 2015
Sunrise Hitek's iPhone 5 Slider Case http://www.sunrisehitek.com/product/iphone-5-custom-slider-case offers unprecedented all-around hardshell protection for the iPhone 5 and 5S, including Sunrise Hitek's trademark wrap-around lip that protects the screen when phones are placed face-down. Made of durable polycarbonate, the Slider features a two-piece design, including a bumper frame that protects all four sides and corners, and a customizable sliding back plate. It can be printed with the customer's own photo artwork using the most advanced UV flatbed technology, so there is no fading and no peeling, ever. Valentine gifts can easily become mundane. Instead of flowers or candy, give the the gift of a custom iPhone case which is both useful and thoughtful.
Customers can upload their own images to customize the case. The most popular categories include babies, children's photos, dogs and cats, couple's images, sports teams, cartoon characters, company logos. Using an HTML 5 based Interactive Designer, Sunrise is among one of the only sites that allows artwork customization directly from an iPhone or iPad.
About Sunrise Hitek
Sunrise Hitek's üuber store, formerly known as iGear, is a leading maker of protective gear for Apple's iPad. The brand changed to üuber when the company starting developing cases for other devices, such as the MacBook, Chromebook, and Samsung devices. Sunrise Hitek Group, LLC, owner of the üuber brand, also operates Sunrise Digital, a leading digital printing company based in Chicago. As a G7 Qualified Master Printer, Sunrise is uniquely qualified among protective gear makers to offer a wide array of customization options, ensuring the most consistent and accurate color reproduction. Sunrise is an Inc. 5000 company established in 1988 and employs the most advanced equipment and technology, such as G7-certified HP Indigo and UV flatbed presses, and digital die-cutting, to create best-in-class products. A privately-owned enterprise, the company is based in Chicago and sells products worldwide.