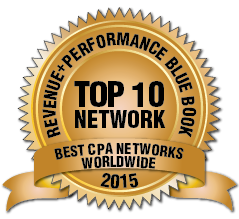 I definitely believe that the success of AdLock Vault and AdWall had an impact on publisher votes this year. -Fehzan Ali, Adscend Media CEO
Austin, Texas (PRWEB) February 03, 2015
Adscend Media, a leading performance advertising network, announced today that the company has received a top ten ranking in the 2015 Blue Book Survey, an annual global ranking of Cost Per Action (CPA) advertising networks. Presented annually by Revenue Performance magazine, Blue Book survey rankings are determined via publisher votes and by the Blue Book Committee. Adscend Media received a ranking of #6 on the 2015 Blue Book Survey, which is their fourth consecutive ranking on the survey and their highest ranking to date.
Adscend's top ten ranking on the 2015 Blue Book Survey comes only a few months after the release of AdWall for virtual rewards monetization and AdLock Vault for file download monetization. According to Adscend CEO Fehzan Ali, the success of these new solutions were a big factor in propelling Adscend to it's highest ranking ever on the Blue Book survey.
"I definitely believe that the success of AdLock Vault and AdWall had an impact on publisher votes this year. Not only did these solutions help expand our services to new groups of publishers, these solutions also immediately helped publishers earn more through new monetization formats and the ability to monetize web and mobile traffic," stated Ali.
Launched in October 2014, AdWall offer wall technology allows publishers to deploy a fully-functioning, rewards-based monetization system on their website or mobile app in minutes. For mobile developers, AdWall technology can be used to generate a new revenue stream to monetize virtual goods on their apps or games, such as in-app items, bonus levels, or virtual currency. AdWall technology also helps web publishers increase their earnings, through the monetization of virtual goods, such as services, perks, and in-game items.
AdWall technology contains several mobile monetization features that Ali believes makes AdWall a powerful revenue-generating solution. "In terms of mobile traffic monetization, AdWall is packed with features to help maximize conversions, including mobile-responsive functionality to monetize both web and mobile traffic, high-converting mobile app offers, and innovative web-to-mobile offers that even allow desktop users to complete offers via their mobile devices," mentioned Ali.
Released in December 2014, AdLock Vault's Pay Per Download (PPD) technology allows publishers to easily monetize web and mobile traffic to their downloadable files, such as eBooks, images, songs, apps, codes, or videos. With revenue-generating features such as web-to-mobile offers, lightning-quick file delivery, and a mobile-responsive design, AdLock Vault can help file locking, link locking, or PPD publishers earn more per click.
According to Ali, publishers making the switch to AdLock Vault technology should see an immediate impact on their earnings. "The flexibility to monetize web and mobile traffic, combined with access to a large inventory of high-converting offers alone should immediately put AdLock Vault publishers in a great position to generate revenue. Couple those features with time-saving functions like multiple-file uploading, simple customization wizard, and one-click deployment, and we believe that publishers can earn 30-50% more from their file downloads with AdLock Vault, versus using our competitor's solutions," added Ali.
Though new monetization technology played a large part in their high Blue Book survey ranking, Ali believes that Adscend's pay for performance advertising solutions were also a factor.
"Since our inception, we have strived to make sure that our advertising solutions delivered tremendous value to our mobile and web advertising partners. Our ads create awareness, engagement, and ultimately customers, and I think the Blue Book Committee recognized how effective our ads have become in generating ROI for our ad partners," explained Ali.
Adscend's high-engagement advertising solutions utilize content locking and offer wall traffic from Adscend's global network of publishers to put mobile and web brands directly in front of their target consumer groups. Currently serving ads in over 180 countries, Adscend helps deliver customers to web and mobile app companies from around the world.
Ali is confident that Adscend will earn a fifth consecutive top ten ranking in the 2016 Blue Book survey, as Adscend plans to continuing enhancing and developing solutions to help their advertising partners and publishers generate more revenue.
"We are constantly working to see how we can do better. Hopefully, our continued efforts will result in another top ten ranking in 2016!" stated Ali.
For more information on Adscend's solutions for web and mobile app publishers, visit: http://adscendmedia.com/pub-overview.php.
For more information on Adscend's web or mobile app advertising solutions, visit: http://adscendmedia.com/adv-overview.php.
About Adscend Media
Founded in 2009, Adscend Media is a leader in the online advertising space, focused on developing innovative, turn-key digital content monetization solutions. AdLock®, Adscend Media's proprietary content locking technology, along with AdWall offer wall technology, allow publishers to maximize revenues from their premium content. Adscend's vast global reach and high-engagement solutions also allow advertisers to acquire new customers, perform market research, and ultimately grow sales. Each month, Adscend's offer platform features offers targeted to users in over 180 countries and delivers over 500,000 actionable leads per month to their advertising partners. Currently, Adscend has over 2,000 offer wall, points, mobile, and other incentive-based lead generation campaigns.