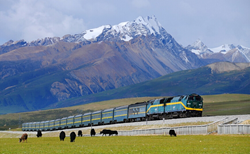 Please help me arrange comfortable and altitude worry free vacation in Tibet, Thank you!
Lhasa, Tibet (PRWEB) February 06, 2015
With the Tibet tour season right around the corner many travelers are wondering how they can avoid altitude sickness during their visit. For most travelers it is normal to experience a slight headache, fatigue, or shortness of breath over the first day or two after arrival; however it is rarely severe to the point of getting in the way of normal activities. Tony of Tibet Ctrip Travel Service-TCTS (http://www.tibetctrip.com) discusses how a few simple steps go a long way in helping travelers hit the ground running.

Stay well hydrated before and after the beginning of a tour of Tibet. Since mountain air is much drier than lower elevations water escapes the body in the form of water vapor when travelers exhale. This is what usually leads to headache and fatigue.
Minimize smoking or consuming alcohol for the first few days in Tibet. Both these reduce the efficiency of the body's respiratory system: smoking can easily keep the body from taking in much needed oxygen while alcohol causes quicker dehydration and slower respiration during sleep. Until travelers feel well acclimatized moderation is encouraged!
Avoid intense physical activity for the first few days; this is especially important for those planning to do intense trekking or biking. Tibet tours by TCTS typically include an easy sightseeing tour of Lhasa for the first couple days giving travelers an opportunity to adjust. Take advantage of this time by resting and relaxing.
While the effects of the altitude can be slightly bothersome however taking a few simple steps before and after arrival can keep more severe symptoms at bay. Travelers who anticipate having difficulty acclimatizing may want to talk to their doctor about certain kinds of medication that can speed up the acclimatization process. TCTS wants all travelers to be altitude sickness free, keeping hydrated while taking it easy for the first few days of any kind of Tibet travel can really pay off in the long run!