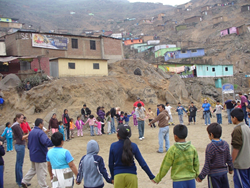 Ending poverty is complicated, and the solution is different for each community
(PRWEB) February 02, 2015
Rather than providing handouts, Food for the Hungry (FH) addresses the root issues of poverty by empowering the communities it serves. The end result is lasting solutions that help those communities to stand on their own without outside assistance
During the 2015 calendar year, FH is pleased to announce that 39 communities will graduate, and new relationships will begin with 53 communities. FH centers of operation will open in Ethiopia, Kenya, Rwanda, Guatemala, Nicaragua, Bolivia, Peru, Cambodia, Philippines and Bangladesh.
"Sometimes people get stuck," said FH President and CEO Gary Edmunds. "It takes an understanding of what's holding a community back in order to identify a plan that will end poverty. The plan may focus on education. Or clean water. It may involve the establishment of reliable sources of food and income. Ending poverty is complicated, and the solution is different for each community."
FH enters a community with a plan to exit. It often takes 10-15 years for a community to graduate from stuck to self-sustaining When a community graduation is held, it is a big celebration. FH officially transitions from a coaching role to being on the sidelines, then moves on work with a neighboring community in need.
On December 31, 2014, community graduations were held in Bangladesh, Rwanda and Peru. The following accomplishments were celebrated in each FH graduating community:
When FH first came to Outfall, Bangladesh, there was a great need to establish a community-based school and to include the low caste members of the society. FH established a School Management Committee and directly ran a community-based school that included all children. FH staff taught the low caste community members that they too are made in the image of God, regardless of their poor treatment by mainstream society. When FH left Outfall, the school had been linked to the government of Bangladesh, which took on the responsibility of supporting and running the school. In addition, the women of Outfall were empowered to speak up about women's issues and rights, thanks to the health and law education provided by FH.
During the 10 years FH was in Takwe, Rwanda, lasting improvements were made to infrastructure, education, and sustainable sources of income. Staff members worked with families and community leaders to build long-lasting classrooms and clean restroom facilities, and encouraged all children from vulnerable families to start their education. FH also established family cooperatives to facilitate training in agriculture techniques, and connected them with a local finance institution that enabled community members to access loans. These loans were essential in funding successful agricultural businesses. Domestic animals were distributed to families to fertilize their soil and to improve their nutrition. As is the case with all FH community graduations, processes were put in place with local leaders and church leaders to ensure the continued monitoring and support of established programs.
In Los Cipreses, Peru, domestic violence was prevalent, and children suffered from health problems due to poor living conditions and lack of access to medical services. Over the course of a decade, FH trained community members on Christian principles and violence prevention, and established play center services, an after-school academic program and recreational activities for students. Children were routinely monitored for health issues, and parents were trained on health and education. Community building projects included the construction of community center and a bathroom for the sports field. Now the people of Los Cipreses value the importance of study, child formation and Christian principles, and they understand a parent's role in this process. Infrastructure improvements during this time included paved roads, drinking water, sewers and electricity, and now families have their property titles as well as houses made of stable building materials.
WATCH: See how community graduation impacts a community in this video produced by FH Canada
Founded in 1971, Food for the Hungry provides emergency relief and long-term development programs with operations in more than 20 countries to help the world's most vulnerable people. Learn more by visiting http://www.fh.org. Social connections include http://www.facebook.com/foodforthehungry and http://www.twitter.com/food4thehungry.