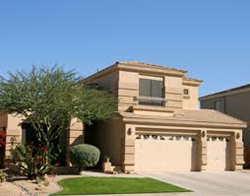 Pinal County located just southeast of Phoenix showed great opportunity for investors
Chicago, IL (PRWEB) February 02, 2015
With the advent of the Super Bowl in Phoenix today, Peoples Home Equity, a national lender with two branch locations in Phoenix, identifies opportune fourth quarter growth in various neighborhoods of the city.
The city of Phoenix is comprised of 3 main counties, Maricopa, Pinal, and Pima. Maricopa is the largest county of the 3 and includes downtown Phoenix. Overall Maricopa experienced a sluggish year with a respectful 4.6% rise in median home sales prices but a -2% fall in sales. Looking deeper into Maricopa County, the top 3 areas in terms of median home sales performance in the 4th quarter of 2014 versus a year ago were: Scottsdale (zip code 85251) at 104%, Mesa (85203) at 103.5%, and Tonopah (85354) at 77.8%. Perhaps the reason for the increase in home sales in Scottsdale and Mesa were caused by buyers closing great deals in the area. Median home sale prices -15% in both Scottsdale and Mesa versus 4th quarter 2013. Tonopah however, experienced a colossal 80% rise in median home sale prices reflecting that heightened demand in the area had a direct effect on home prices.
Maricopa county areas that experienced the highest year-over-year quarterly rise in median home sales prices (beside Tonopah) were Phoenix (85007) at 72.7%, Rio Verde (85263) at 40.5%, and Phoenix (85017) at 34.9%.
Pinal County located just southeast of Phoenix showed great opportunity for investors. Overall the Country experienced a -0.9% fall in home sales prices and a -1.6% fall in sales. The area of Superior (zip code 85173) showed both a 50% rise in home sales and a 54.7% rise in median home sale prices. Despite this steep rise, median home sales prices finished the quarter at $58,800, a value area at just $44 per square foot.
Pima County, located just south of Phoenix, did not experience any extravagant home price increases. Overall the county remained unchanged in terms of median home sales prices and experienced a -5% decline in home sales. However, Pima County did show some balance growth in areas of Tuscan. Zip codes 85737, 85746, and 85705 respectively showed: 28.3%, 18.9%, and 18.5% growth in home sales and 5.3%, 8.4%, and 4.7% in median home sale prices.
If searching for a home to purchase and are in need of financing, contact a Peoples Home Equity loan officer today at: 262-563-4026