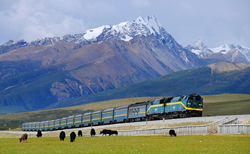 Travel to Tibet, you can come here by train, air and overland driving in 2015. Local Tibet Travel agency helps make your Tibet journey easy!
Lhasa, Tibet (PRWEB) February 04, 2015
Travelers planning to visit Tibet from around the world have been asking about the best way to arrive for their tour. For groups on a tight schedule the quickest and easiest way is by air while those with extra time may want to consider riding the world famous Qinghai Tibet Railway or making it an overland journey. To help travelers discover the best way for their Tibet travel, Tibet Ctrip Travel Service-TCTS (http://www.tibetctrip.com) has the inside scoop currently.
By far, the easiest and quickest way of getting is by air. Daily non-stop flights arrive in Lhasa from major Chinese cities such as Chengdu, Chongqing, and Xi'an while cities further east, such as Beijing or Shanghai, offer flights to Tibet with just one stop. There are multiple flights to and from Kathmandu every week, check with TCTS for the latest schedules.
Many adventurers planning Tibet travel are excited for an opportunity to ride the Qinghai-Tibet Railway. Depending on the point of departure it can take 24-48 hours before arriving in Lhasa however the ride is worth the wait; the schedule is timed for riders pass expansive views of the Tibetan Plateau and beautiful mountain scenery during daylight hours. The most scenic portion of the ride is between Golmud and Lhasa so travelers looking to save a bit of time may want to consider boarding the train in Xi'ning.
Taking the Friendship Highway from Kathmandu to Lhasa is a popular option for travelers coming from Nepal. Travelling in Tibet overland is an excellent way to see every day Tibetan life, enjoy opportunities to stop for pictures of the scenery, and learn about Tibetan culture at temples and monasteries along the way. Depending on travel restrictions TCTS may also be able to assist travelers wanting to arrive overland from Mainland China.
When travelers decide how to arrive for their Tibet tour there is a trade off between schedule, budget, and travel interests. Flying may be the quickest and easiest but sacrifices on the scenery in between. Taking the train involves a tradeoff between cost, comfort, and time while those interested in overland travel will need to fairly compensate their driver for time and fuel costs. With summer in Tibet right around the corner its time to start weighing the options and planning a tour!