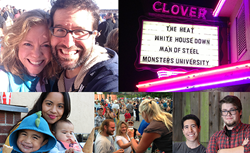 "Youth succeed when challenged to let their creativity shine and when educational programs are fun and engaging. The Film Society programs promise to give young people this opportunity." - Jason Weiss, CEO, Boys & Girls Clubs of Central Sonoma County
Cloverdale, CA (PRWEB) March 23, 2015
The Alexander Valley (AV) Film Society is launching educational film programs for students in public schools in Cloverdale, Geyserville, and Healdsburg. Adam Burke, Pixar Animator and AV Film Society Programming Team Co-Chair, will kick off with Animation Workshops for students at Cloverdale, Geyserville, and Healdsburg high schools.
"Educators throughout the region made it clear that there was a strong need for supplemental arts educational programming for students," says AV Film Society Executive Director Kathryn Hecht. "Together we are working to provide impactful programs that help create a lasting appreciation for film, as well as fun opportunities to expand and enrich worldviews."
Future programs for students will include documentary filmmaking workshops with Bay Area filmmakers, an annual student film competition in concert with the Alexander Valley Film Festival in October, and special screenings followed by Q&As with filmmakers or subject area experts.
"We understand the importance of educational programs in the arts," says Jason Weiss, Co-CEO, Boys & Girls Clubs of Central Sonoma County. "Youth succeed when they are challenged to let their creativity shine, and they learn so much more when educational programs are fun and engaging. The Film Society programs promise to give young people this opportunity."
For more information on the Film Society, visit http://www.avfilmsociety.org.
About The Alexander Valley Film Society
The Alexander Valley Film Society seeks to enrich our community by connecting the public with diverse films, artists, and experts through an annually produced regional film festival and year-round educational film programs. Central to this mission is a focus on arts education. By working closely with Alexander Valley School Districts and well-established after-school programs, the AV Film Society aims to help bridge the gap between arts education and underserved students. The Alexander Valley Film Society is fiscally sponsored by the San Francisco Film Society.