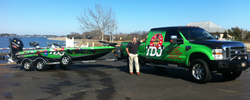 "From the moment we decided to work together, Joey and Thomas and the whole team at TDJ made me feel like part of their family," said Ponds.
Madison, Miss. (PRWEB) February 03, 2015
Madison, Miss. - February 2, 2015 - Professional Angler Pete Ponds embarks on his first season on the FLW Tour, and he is pleased to announce TDJ Oilfield Services as title partner for his 2015 season.
After 18 years of competing on the Bassmaster Tournament Trail, Ponds is set to begin his first year as an FLW Tour Pro in 2015, and he said the support of his new family is invaluable. "It is really nice to have the people at TDJ standing behind me in support as I move into a new part of my career," he said. "I've spent a long time fishing Bassmaster events, and while I felt it was time to try something new, I'm grateful for the platform I've had. Having people come into my life and career and commit themselves to being a support in this is so comforting."
He said that the TDJ team made him feel like family almost immediately. "From the moment we decided to work together, Joey and Thomas and the whole team made me feel like part of their family," he said. "They have already planned to be at every event this year, and having that comfort level of a committed group behind me gives me more motivation as we get set to begin the year."
Thomas Moore, Sales Manager for TDJ Oilfield Services said that they knew early on that Ponds was the guy for them. "A mutual friend, Chuck Cole, told us about Pete and his career, so we decided to meet him," said Moore. "I went fishing with him and caught an eight-pound largemouth, but more importantly had a great day with him and getting to know him; it made the decision to sponsor him fairly simple."
He said Ponds' nature was what made the partnership work. "Like us, Pete is a good ol' country boy with a lot of passion for what he does," said Moore. "He fits us and has become like family in a short time. He is the perfect person to represent our company; I think we might be more excited about the year ahead than he is."
In addition to representing the company with his boat and truck wrap on tour in 2015, Ponds will also spend some of his time away from tournaments entertaining TDJ Oilfield Services clients as he travels between events. He will do that by doing what he loves to do most, taking them fishing.
Look for the Pete Ponds / TDJ Oilfield Services rig as he travels the country competing on the 2015 FLW Tour.
About TDJ Oilfield Services
TDJ Oilfield Services, with four locations in Texas, Louisiana and Mississippi is a family owned company that provides cleaning and maintenance services to the oil and gas industry. With clients throughout the region, TDJ Oilfield Services provides clients what they need to operate efficiently. Their services include, Mud Tank Cleaning, Gap Vac Services, Environmental Clean-up, Line Flush, Degreaser, Drift/Strap/Tally/ Wash Casing, Roustabout Services, Rig Cleaning, Load- Out and Rig Up/ Rig Down Backyard Services. Visit them on the web at http://tdjoilfieldservicesllc.com.
About Pete Ponds
From Madison, Miss., Pete Ponds has competed on the professional tours for nearly 20 years. In 2015 ponds will compete on the full schedule of the FLW Tour for the first time. His career spans 158 entries in Bassmaster tournaments, a win at the 2004 Southern Open on Lake Eufala along with six other top 10 finishes a trip to the Bassmaster Classic, and $479,380 in career earnings. His sponsors include TDJ Oilfield Services, Duckett Fishing, Bandit Lures, Vicious Fishing, Scum Frog, Ardent Reels, Vicious Vision, Talon Fishing Unlimited, Ranger Boats, Mercury Outboards, Bluewater LED, Bruiser Baits, Power Pole and Iron Cross Automotive. Follow his progress on his Facebook page at https://www.facebook.com/petepondsfishing