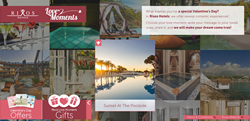 Rixos Hotels launches a heart-warming campaign to make Valentine's day memorable by encouraging their guests to share their 'love moments'
Antalya,Turkey (PRWEB) February 04, 2015
Rixos Hotels launches a heart-warming campaign to make Valentine's day memorable by encouraging their guests to share their 'love moments' in their own words on the microsite: rixoslovemoments.com
Microsite includes several romantic treatments including 'Private Hot Tub Session', 'Walking by the forest', 'Coffee&Macarons in the French Street', and 'Private Wine Tasting,' which can be appealing for couples during Valentine's Day and the rest of the year. Other trendy alternatives for couples to enjoy their holidays are 'Photoshooting at the Beach', 'Sultans Four Hands Massage', 'Couples Private Ski Lesson' and 'Romantic Chocolate Treats.' The guests can cherry-pick from their personal Rixos experiences & share them with their loved ones via Facebook, Twitter or e-mail.
During this campaign, which will last for three weeks, Rixos Hotels offer 4 lucky couples a chance to WIN double rooms for 4 days and 3 nights at popular destinations for sharing their 'love moments'.
In the privileged & exclusive world of Rixos Hotels, located in Dubai's Palm Island, the 8th wonder of the world, the guests can enjoy the most amazing gourmet dishes prepared by the best chefs in the world. At Rixos Egypt, located close to the Red sea in the peaceful city of Sharm El Sheikh, guests can observe the coral reefs up close in an incredible aquarium.
Another award of the campaign is a couple's aromatherapy massage in the spa facility of Rixos Eskişehir, one of Anatolia's most modern cities.
Rixos Love Moments microsite will be open throughout the year to share the most romantic moments in Rixos facilities with all over the world.