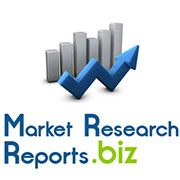 Albany, NY (PRWEB) February 03, 2015
The report provides a growth map for these sub-segments within various geographies and the growth drivers responsible for them. The global biochips market is expected to reach US$11.4 billion by 2018 at a CAGR of 18.6% from 2012 to 2018. This robust growth rate will be supported mainly by Asia Pacific and the European Union.
View Full Report at http://www.marketresearchreports.biz/analysis/170659
The global biochips market has been classified on the basis of segment, types, products, applications, technology, and geography. The main segment of the global biochips market is microarrays. On the basis of type the market includes DNA biochips, lab-on-chips, protein biochips, tissue microarray, cell-on chips, organ-on-chips, and human-on-chips. In terms of technology, the global biochips market is broken down into gene expression, SNP identification, high throughput screening, and proteomics. The products of the global biochips market are instruments, reagents and consumables, software, and services. The applications segment includes drug discovery and development, diagnostics and treatment, research, forensic, agriculture, environmental sensors, and food inspection. Geographically, the global biochips segment studies regions such as Asia Pacific, Europe, North America, and Rest of the World.
Download Detail Report With Complete TOC at http://www.marketresearchreports.biz/sample/sample/170659
Amongst these segments, biochips instruments are expected to witness the fastest growth, at a CAGR of 20%. The microarrays segment holds a market share of 70% in the global biochips market, while the services take up about 15%. A regional analysis shows that North America will hold the largest chunk of the market in the global biochips industry till 2018. Furthermore, as new economies strengthen in the Asia Pacific region, boasting heavy investments in the biochips market, they are expected to record a growth at a CAGR of 19% till 2018.
The report 'Analysis of Global Biochips Industry, 2012-2018' assesses every component of the global biochips market microscopically and provides an in-depth understanding about the same. With market measurement tools such as Porter's five forces analysis or SWOT analysis, the industry experts help in identifying the strengths, weaknesses, opportunities, and threats for the industry. Additionally, they also point out and describe the threat of new entrants, threat of substitute products or services, bargaining power of customers, bargaining power of suppliers, and the intensity of competitive rivalry.
Explore All Biotechnology Market Research Reports at http://www.marketresearchreports.biz/category/30
The report on the global biochips market also profiles some of the top players in the industry in North America, Asia Pacific, and Europe. Some important companies studied in this report are Arkray Inc., Biomerieux SA, Miltenyi Biotec, Mitsubishi Rayon Co. Ltd., Genomictree Inc., and Med Biogene Inc. The report gives a clear picture about the financial outlook of these companies, their marketing strategies, potential mergers and acquisitions, and research and development activities for the coming few years.
Related Reports
Global Biosimilar Market Trends & Opportunities: 2015 Edition
View Full Report at http://www.marketresearchreports.biz/analysis/242914
Rising budgetary pressures to reduce healthcare expenditures, patent expiries of blockbuster drugs, growing demand for cost-effective alternatives, increasing aging population, conductive government initiatives and rising incidences of various diseases are significant factors that are responsible for the growth of global biosimilar market (2013 to 2018). On the other hand stringent regulatory environment in some countries, high manufacturing complexities, costs, and presence of low priced generic drugs and high-entry barriers are considered to hinder the market growth. Emerging pharmaceutical market and less stringent government regulatory frameworks in few countries can provides some of the major opportunities for biosimilars market. In addition, increased collaboration between manufacturing companies and outsourcing of biosimilar products are key trends for biosimilars market.
Download Detail Report With Complete TOC at http://www.marketresearchreports.biz/sample/sample/242914
The biosimilar products market is segmented into recombinant non-glycosylated proteins, recombinant glycosylated proteins, and recombinant peptides. Globally there are 280 biosimilars in pipeline and their clinical trials are increasing at a rate of 20% annually.
China Pharmaceutical Excipients Industry Report, 2014-2017
View Full Report at http://www.marketresearchreports.biz/analysis/232334
Pharmaceutical excipients refer to adjuvants and additives used for production of pharmaceuticals and compounding of prescriptions. In addition to active ingredients, pharmaceutical excipients are also contained in pharmaceutical preparations after reasonable safety assessment.
Download Detail Report With Complete TOC at http://www.marketresearchreports.biz/sample/sample/232334
China has launched more than 500 types of pharmaceutical excipients, far less than 1,500 types of the United States and 3,000 types of Europe. By market size, gelatin capsules, sucrose, starch, film-coated powder, 1,2-propylene glycol, polyvinylpyrrolidone (PVP), hydroxypropyl methyl cellulose (HPMC), microcrystalline cellulose, hydroxypropyl cellulose (HPC) and lactose rank as the top 10 pharmaceutical excipients in China.
About MarketResearchReports.biz:
Marketresearchreports.biz is the most comprehensive collection of market research reports, supporting clients' market intelligence needs with over 100,000 market research reports, company profiles, data books, and regional market profits in its repository. We also offer consulting support for custom market research needs.
Our document database is updated by the hour, which means that our customers always have access to fresh data spanning over 300 industries. From Fortune 500 companies to SMEs, Marketresearchreports.biz has built a veritable reputation for fulfilling the most exacting market research needs.
Contact:
Atil Chuadhari
State Tower
90 State Street,
Suite 700, Albany
NY 12207, United States
Toll Free: 866-997-4948
Email: sales(at)marketresearchreports(dot)biz