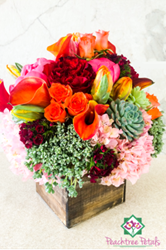 Atlanta, GA (PRWEB) February 03, 2015
Peachtree Petals, a recognized leading floral provider, specializing in premium floral arrangements and assorted gift services, announces new online timer for same-day flower ordering. The Atlanta florist makes the announcement to market its' popular same-day delivery floral services, promote user-friendly flower ordering to its' customers, and increase online sales.
The new online timer is located on Peachtree Petals' comprehensive website for both its' Atlanta and West Los Angeles locations. The timer is a static clock ticker on each page, displaying the time frame customers have to place their orders within for same-day delivery of their flowers. Same-day flower delivery is available for all orders up to 3pm daily and closed on Sundays. Peachtree Petals' online timer provides easy visibility for online shoppers to know the daily cut-off time for same-day delivery of flowers at a glance.
This is another value-added service by Peachtree Petals, attesting to the florist's simple approach to the floral industry. Customers can plan their floral and assorted gift deliveries accordingly, including next-day delivery of flowers if same-day delivery has cut-off. After 3pm, Peachtree Petals also has same-day pick-up of floral and gift orders within normal business hours available.
Peachtree Petals offers customers competitive pricing options for their same-day and next-day flowers also. Its' standard same-day delivery is available in Atlanta for only $11.99 and also next-day delivery for $9.99. Peachtree Petals' new West Los Angeles location offers same-day delivery for $13.99 and next-day delivery for only $11.99. Peachtree Petals can perform any Los Angeles flower delivery within the West Los Angeles and surrounding Los Angeles areas. For questions regarding online orders or delivery status, please contact Peachtree Petals to discuss your same-day flower delivery and assorted gift needs.
Peachtree Petals is a well-known leader of superior floral arrangements and a recognized Master Florist nationwide. For the best flowers in Atlanta, Peachtree Petals is able to meet all of your floral an assorted gift needs. Peachtree Petals services a growing list of clients, including company floral subscriptions and weekly floral services. The company offers a simple approach to the floral industry, most notably, same-day delivery of all their floral arrangements in the Atlanta and West Los Angeles areas.