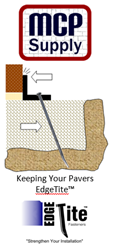 MCP Supply releases much anticipated video showing the improved results on paver and brick projects after a 3 year period
Lewisberry, PA (PRWEB) February 03, 2015
When new products are introduced, it's always nice to know what the true benefits are after the product is actually used. The EdgeTite™ Paver Edging Spikes were introduced onto the market over 3 years ago. Since then there has been a much needed boost to an industry wide problem that has not seen much in the way of a solution in decades.
Most paver and brick projects must endure harsh weather related elements in the freeze and thaw cycles of the changing seasons. Frost Heave is a common term well understood by individuals in the hardscape and landscape business as a merciless reality for outdoor projects. Frost Heave can be defined as "an upward thrust of ground or pavement caused by freezing of moist soil -- called also frost heaving". Then when the soil thaws, objects used to anchor projects into the ground slowly begin to protrude upward allowing the fastened object to move. This reality has a devastating and costly effect on the entire project because of much needed repairs.
MCP Supply is a successful technology and sourcing company that focuses on innovative products that make a difference by improving the construction industry wherever possible. Located in south central PA, MCP Supply currently has distribution hubs located in South Carolina, Illinois and at its headquarters in Lewisberry PA. MCP Supply invites the readers to review the testimonials on their website and watch the video link provided below.
To learn more about the EdgeTite™ spike installation and results, watch the video here https://www.youtube.com/watch?v=51C0XcLQEj8&feature=youtu.be
or visit http://www.mcpsupply.com
Company Contact
Michael Pastal
717-440-1680
mpastal(at)mcpsupply(dot)com