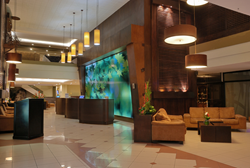 Guatemala City (PRWEB) February 02, 2015
The Radisson Hotel & Suites in Guatemala City, Guatemala is currently being renovated to showcase a new lobby, salons and restaurant designed by award-winning architect Mauricio Solis.
The hotel, built in 1989, features spacious suites, event facilities and full gym, is undergoing changes to its lobby and restaurant which will be a highly conceptualized dining experience for guests. Diners can sit at smart tables and order food via a computerized system. They will also be able to do presentations and Skype on the computer, as well as print documents from the smart table, as they dine. The unique and state-of-the-art restaurant will feature healthy, stylized meals and is slated for an April 2015 opening. Additionally, the renovated hotel will also include four new salons all designed by Solis Colomer Architects founder Solis, who won Interior Design Magazine's Best of the Year award in 2013.
"We're excited with the expansion and renovation of the Radisson Hotel & Suites and are looking forward to our grand opening in September 2015. "We cannot wait for our guests to visit and enjoy the new surroundings of our beautiful hotel," according to Melissa Alonzo, marketing director for Grupo Azur.
"Guatemala is emerging as a high-end travel destination with Guatemala City a prime setting to hold various events and meetings. As society moves into the modern world, we believe in moving right along with it and our newly renovated hotel will showcase our viewpoints with innovative new concepts and ideas," says CEO Johannes Kӧhler.
The Radisson Hotel and Suites Guatemala City, located in the heart of Guatemala City's Zona Viva ("the lively zone") is a bustling hub of nightlife and is 10 minutes away from La Aurora Airport.
Contact:
Radisson Hotel & Suites contact:
Melissa Alonzo
(+502) 22467480
malonzo(at)grupoazur(dot)com
Skype: mely.alonzo