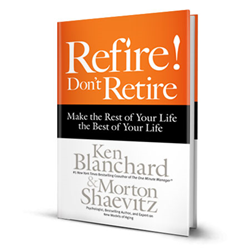 Our book is a wake-up call," says Blanchard. "It's so easy to slip into autopilot as the years go along. Life is a very special occasion, and no one should miss it.
San Diego, CA (PRWEB) February 03, 2015
Today Berrett-Koehler Publishers and Life Reimagined/AARP will publish REFIRE! DON'T RETIRE, a new book coauthored by Ken Blanchard of THE ONE MINUTE MANAGER fame and noted psychologist Morton Shaevitz.
The book presents a call to action for a growing population of mature adults. In the US alone, there are more than 40 million people aged 62 and older, with approximately 10,000 people turning 65 each day.*
"To refire is to approach life with gusto and see each day as an opportunity," says Shaevitz, who has been studying new models of aging. "It's the opposite of retiring. Retiring is going from; refiring is going toward. People who are only leaving something don't do very well. People who are going toward something do much better."
"Refiring is about breaking out of the habitual ruts that begin to appear as we settle into middle age and beyond," adds Blanchard.
The book tells the story of Larry and Janice Sparks, a fictional couple in their early sixties who consult with a psychologist and other couples to explore how to re-energize the emotional, physical, intellectual, and spiritual aspects of their lives. Interspersed throughout the text are tips and examples of how readers can "refire" in these same areas.
Research on aging suggests that many older adults are happier, healthier, and more productive than previously thought. "Our goal is to inspire these individuals," says Shaevitz, "and provide them with new tools for healthy living, rewarding relationships, continued learning, vitality, meaningful involvement, and the development of a personal sense of spirituality."
With life expectancies increasing every year**, more people are looking beyond career advancement and financial gain for fuller, more meaningful lives. "Our book is a wake-up call," says Blanchard. "It's so easy to slip into autopilot as the years go along. Life is a very special occasion, and no one should miss it."
"REFIRE! DON'T RETIRE is a guide to an ongoing process," says Shaevitz. "Rather than having a bucket list mindset, we want people to have an ever-expanding list and to live full, joyful lives."
"Once in a while a book comes along that should be featured on every talk show. REFIRE! DON'T RETIRE is just such a book. Read it and you will experience aging in a whole new way. A must-read for anyone who plans on getting old."
—Richard Leider, bestselling author or coauthor of THE POWER OF PURPOSE, REPACKING YOUR BAGS, and LIFE REIMAGINED
About the Authors
Ken Blanchard, cofounder and Chief Spiritual Officer of The Ken Blanchard Companies, is one of the world's most prominent authors, speakers, and consultants. He has authored or coauthored 60 books, including THE ONE MINUTE MANAGER, whose combined sales total more than 21 million copies. His groundbreaking works have been translated into more than 42 languages and in 2005 he was inducted into Amazon's Hall of Fame as one of the top 25 bestselling authors of all time.
Dr. Morton Shaevitz is Clinical Director of Shaevitz and Associates; Associate Clinical Professor of Psychiatry at the University of California, San Diego School of Medicine (v); and chair of the Geriatric Psychology Section of the California Psychological Association. He also has served on the Leadership Council of the Stein Institute for Research on Aging. While working in the Internal Medicine division at Scripps Clinic, he developed a number of behavioral health programs and his interests turned toward medical and geriatric psychology.
Refire! Don't Retire: Make the Rest of Your Life the Best of Your Life
By Ken Blanchard and Morton Shaevitz
Berrett-Koehler Publishers
February 2015
Hardcover, $22.95; 154 pages
978-1-62656-333-9
*http://www.pewresearch.org/daily-number/baby-boomers-retire/
**http://www.nia.nih.gov/research/publication/global-health-and-aging/living-longer