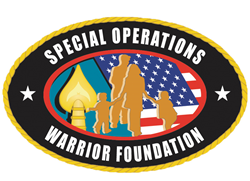 Tampa, FL (PRWEB) February 02, 2015
A wide variety of artists have set up shop at the Santaella Studios for the Arts in West Tampa, which will donate half of each entry fee from a Feb. 13 Winter Open House and Art Sale to the nonprofit Special Operations Warrior Foundation.
The SOWF supports America's Army, Navy, Air Force and Marine Corps special operations forces through three programs: college scholarships for the surviving children of fallen U.S. Special Operations Forces personnel, educational and family counseling, and immediate financial assistance for severely wounded special operators.
Santaella Studios is located at the former A. Santaella Cigar Co. factory at 1906 N. Armenia Ave. in Tampa. The three-story structure was built in 1904 and is owned by the Ellis and Van Pelt families, who operate an office equipment business on the first floor.
The open house and art show will be held from 6 p.m. to 10 p.m. Admission is $10 for the event, which is being sponsored by Platinum Bank and is open to the public. There will be live music, and food and wine available for purchase; and there is no cost to park.
Approximately 40 creative professionals and emerging artists currently work at Santaella Studios, who were attracted by the reasonable rent, large spaces, central location in the city, generous landlords and cooperative spirit, says portrait artist Kerry Vosler, owner of the Vosler Young Artists' Studio.
In addition to Vosler's studio and school, Santaella is home to independent film companies, ceramic artists, architects, jewelry designers, shell designers, master print makers, master photographers, contemporary realist classical painters & contemporary modern artists, graphic designers, and a Civil War and historical artist.
"Our veterans are the backbone of our country. They protect and defend our way of life by volunteering to be on the pointy edge of the sword," says Master Photographer Christine Reynolds, a Santaella Studios resident artist.
"As a combat veteran, I understand this and support them."
ABOUT THE SPECIAL OPERATIONS WARRIOR FOUNDATION
Founded in 1980 and based in Tampa, the SOWF is a top-rated charity that provides funds for a post-secondary education to the surviving children of U.S. Army, Navy, Air Force and Marine Corps special operations troops killed in the line of duty.
To date, the SOWF has helped 240 scholarship recipients graduate from college, and has provided over $2 million in stipends to families of hospitalized special operators, so they can get to their loved ones' bedside right away and cover immediate personal expenses. The foundation also offers educational and family counseling.