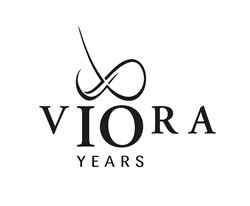 We owe our achievements to the worldwide Viora family, and thank them for their ongoing support and commitment to Viora
Jersey City, NJ (PRWEB) February 02, 2015
Viora, a leading medical aesthetics solutions provider, is proud to announce that it will be celebrating its 10 year anniversary in 2015. Incorporated in 2005, Viora began operations with the goals to improve on existing technology and provide better physician and patient experiences and results, as well as to set a superior standard of partnership with customers. The longevity of Viora is a testament to accomplishing these goals, along with an established, satisfied customer base in over 65 countries.
Starting with Pristine, a microdermabrasion device with diamond tips, Viora has continued to investigate the needs and wants of aesthetic practitioners. This has led to continued advancements in Viora's solutions for IPL, RF, Fractional RF and electromesotherapy procedures. Viora's most recent innovations include the V-Series multi-technology platforms (V30, V20), with interchangeable handpieces. The V-Series line offers multiple applications within one device so practitioners can benefit from Viora's unique combination protocols ensuring the highest clinical outcomes. For more information on Viora's extensive product line, visit http://www.vioramed.com/int/products/.
Throughout the year, Viora will be holding a number of events and activities to commemorate this anniversary. To stay up to date, visit http://www.vioramed.com/int/10yearcelebration/
"Viora's growth over these past 10 years has been overwhelming and exciting and playing a role in our customers' success has been extremely gratifying," said Meital Ben-Tovim, General Manager, Viora Ltd. "Working closely with our partners and customers have given us the drive to succeed and the insight to develop technology and systems, which can shape their future. We owe our achievements to the worldwide Viora family, and thank them for their ongoing support and commitment to Viora."
About Viora
Celebrating its 10 year anniversary, Viora is an award-winning medical aesthetics solutions company that's established in over 65 countries. Viora's skilled and knowledgeable clinical and technical teams, working with clinicians around the world, have produced innovative, proprietary technologies such as CORE, SVC™ and PCR™. These technologies have revolutionized non-invasive treatments to improve control and increase opportunity for practitioners, while enhancing patient experience in numerous applications. Viora's in-house expertise has been at the forefront of implementing new developments in response to market demand, improving upon treatments using existing RF and light technologies. Viora builds time machines, so our customers can shape their future.