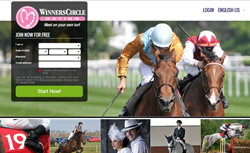 The sport of horse racing is a very social experience
Toronto, Ontario (PRWEB) February 03, 2015
Racing Future Inc. is pleased to announce their partnership with DatingFactory.com, the international leader in online dating white labeling services, in the launch of WinnersCircleDating.com, an online dating site for singles to "meet on their own turf" while enjoying horses and the social experience of horse racing.
With the majesty of the horse as its focal point, Racing Future is dedicated to re-building and growing the sport of horse racing by inspiring a new generation of racing fans through a number of themes and initiatives such as Horses and Human Health, Horse Racing Advocacy, horse racing educational materials, and Horses, Art & Fashion.
In virtually every corner of the world, people enjoy horses and horse racing. According to the American Horse Council, in the United States alone, 1 out of every 63 or 4.6 million Americans are involved in the horse industry as owners, service providers, employees and volunteers. Millions more people participate as spectators. Racing Future Inc. sees Winners Circle Dating as offering a great way to bring these "horse people" together to enjoy one of the world's oldest sports. Going to the track is a fun, social experience which encompasses fashion, gaming, food and drink, travel and, most importantly, majestic horses. There's definitely something for everyone in the sport.
WinnersCircleDating.com has been created by the award-winning Dating Factory platform, which provides a welcoming and easy to use online environment that was designed to connect millions of users across the world looking to find partners who share their interests.
"The sport of horse racing is a very social experience, which makes it the perfect niche for the online dating market," said Tanya Fathers, CEO of Dating Factory. "The idea behind WinnersCircleDating.com is that by giving singles who are -- or could become -- fans of the sport a platform to connect, they will be more likely to meet up to enjoy a day at the races."
About Racing Future Inc
Founded in 2010, Racing Future's principle purpose is to motivate and inspire a new generation of fans to enjoy the sport of horseracing. For more information, please visit our website at RacingFuture.com or contact Dennis Mills at dennismills(at)racingfuture(dot)com.
About Dating Factory
DatingFactory.com was established in 2009 and is an international white-label platform for online dating with over 30,000 affiliates and partners worldwide. The platform supports 22 languages, 58 niche markets, and has a large global data base of users. Dating Factory was named winner of the 2012 YNOT Award for "Best Dating Technology" and two 2013 iDate Awards for "Best New Technology" and "Best Dating Software."