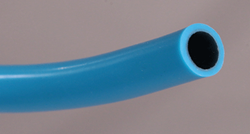 Vernon Hills, IL (PRWEB) February 02, 2015
Transferring corrosive fluids just became easier with Masterflex® Solve-Flex™ Pump Tubing from Cole-Parmer. The fluoropolymer-lined peristaltic pump tubing is designed to handle solvents and other harsh chemicals. Reduce the number of tubing types needed in stock by using this formulation for nearly all chemicals.
Masterflex Solve-Flex Pump Tubing can be used for organic solvent lines, ink and solvent production, diagnostic testing, specialty chemical processing, and ink and toner feed lines. It also provides an option for transferring essential oils in the food processing and pharmaceutical industry. The flexible tubing solves the challenge of hard-to-match peristaltic pump applications.
The fluoropolymer-based liner is plasticizer-free, hydrophobic, and resists the absorption/adsorption of aqueous fluids. It also offers low spallation and assured purity of fluid. A flexible outer jacket extends the pumping life of the tubing.
Masterflex Solve-Flex Pump Tubing meets USP Class VI requirements. It is available in long continuous lengths, allowing for an unobstructed fluid path. For more information, call 800-323-4340 or go to ColeParmer.com/21325.
Cole-Parmer has been a leading global source of laboratory and industrial fluid handling products, instrumentation, equipment, and supplies since 1955. Our product lines, including popular brand names such as Masterflex®, Oakton®, Digi-Sense™, and more, are sold through company-owned customer channel outlets and a strong network of international dealers. We also feature an ISO17025-accredited metrology lab for instrument calibration and repair. Cole-Parmer responds with excellence to customer needs, and offers application expertise and technical support. For more information, contact Cole-Parmer, 625 East Bunker Court, Vernon Hills, IL 60061. In the US, call 800-323-4340. International customers, call 847-549-7600. Visit us at http://www.ColeParmer.com.