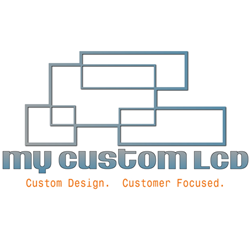 My Custom LCD is a leading manufacturer of custom LCD designs
(PRWEB) February 04, 2015
My Custom LCD is a leading manufacturer of custom LCD designs in high-performance embedded graphical user interface (GUI) solutions. My Custom LCD's complete GUI solutions are a perfect fit for embedded markets such as Industrial Automation, Kiosks, Medical Devices, Manufacturing, Transportation, Point of Sale, and Digital Signage. Their commitment to the customer is to create a custom LCD design, within your time frame, at highly competitive pricing.
My Custom LCD was started in Tustin, California in 2013. My Custom LCD sets themselves apart from the competition by offering a truly customized solution. By not stocking or having shelved products, My Custom LCD treats every project as a new custom LCD design. Working side by side with customers all the way from the design stage to complete ongoing support, they live up to their motto "Custom design. Customer focused." They are able to use existing technology to the advantage of the customer, making exactly what is wanted. There is no project that is too big or too small for them to handle.
"My Custom LCD is a supplier of CUSTOM LCD solutions built to your requirements. Call them with your requirements and they will design you something custom usually cheaper than competitors old off the shelf designs. With Mycustomlcd you specify what YOU need and they will design something to meet your requirements. They use the latest LCD panels and controllers, unlike competitors which use surplus panels or old cheap obsolete designs." -Consulting Engineer from company's LinkedIn page
Being a fairly new company, My Custom LCD is putting their name on the map by hitting all major technology trade shows in 2015. The next big event for My Custom LCD will be February 10th through the 12th at MD&M West in Anaheim, California. MD&M West is one of the largest technology shows in southern California and is the perfect place for My Custom LCD to showcase their abilities.
In the end My Custom LCD is all about the customer. Whether your order is for 1 piece or 1,000 pieces My Custom LCD gives every project the same attention and detail. For more information go to Mycustomlcd.com and see what they can do for you.