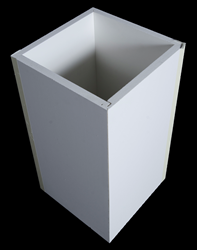 "Builders keep discovering new ways of adding curb appeal and we're happy to oblige" states Rick Kapres, VERSATEX Vice President of Sales.
Pittsburgh, PA (PRWEB) February 03, 2015
Versatex Building Products, LLC, has just introduced a nominal 1 x 12 x 12 version of the acclaimed VERSAWRAP column system. With actual outside dimensions of 11 1/4 x 11 1/4" and a 3/4" wall thickness, the new component comes in 12' lengths.
The 12 x 12 wrap provides one-piece, pre-cut cladding with a secure, full-length, friction-fit closure. It's made of the same premium, matte-finished cellular PVC as all VERSATEX exterior trim products. The VERSAWRAP range already includes 4 x 4, 6 x 6, 8 x 8 and custom 10 x 10 sizes in 8' 6" and 10' lengths.
"The contracting community was quick to adopt VERSAWRAP when we introduced it in 2011," VERSATEX Vice President of Sales Rick Kapres. "Since then, builders keep discovering new ways of using it to add curb appeal and cut maintenance. They've asked for larger sizes, and now we're happy to oblige."
With VERSAWRAP, he said, a builder can avoid labor-intensive mitering, alignment and fastening in the field. "Instead of painfully assembling four separate boards, you just add glue, wrap the post, wait an hour, peel off the protective tape, and walk away. It's that simple."
Mr. Kapres said contractors, distributors and lumberyard operators can learn more about new 12 x 12 VERSAWRAP from their regional VERSATEX representatives, or by contacting him at 724-857-1111 or rkapres(at)versatex(dot)com.
About VERSATEX
Weather-resistant, long-lasting VERSATEX exterior trim materials and systems are manufactured by Versatex Building Products, LLC (fka Wolfpac Technologies, Inc.), of Pittsburgh, Pa., where state-of-the-art facilities produce cellular PVC extrusion products such as VERSATEX trimboards, sheet, bead board, moldings and prefabricated corners; the innovative VERSATEX soffit system; and the new, dimensionally compatible VERSATEX Max nominal 2-by boards and sheet. Details are posted at http://www.versatex.com.