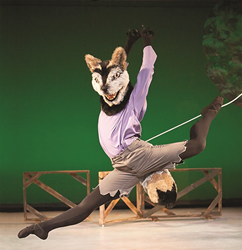 OWINGS MILLS, MD (PRWEB) February 02, 2015
On Sunday, March 8, 2015, two incredibly talented groups, The Columbia Orchestra and the Kinetics Dance Theater, will set the Gordon Center stage for a stunning, live interactive performance of Serge Prokofiev's immortal Peter and the Wolf, in which children of all ages will enjoy a fun-filled introduction to the sounds of orchestral instruments.
The Columbia Orchestra, led by Music Director Jason Love, is now in its 37th season and is one of the busiest community orchestras in the country. Kinetics Dance Theatre has been a leading dance performance and education institution in Howard County since 1984.
The concert will include Peter and the Wolf and another interactive piece -- The Thrill of the Orchestra -- introducing younger members of the audience to the various instruments of the orchestra. To conclude the performance, the children will also be treated to a short compilation of songs from Disney's Frozen!
Conductor and cellist Jason Love leads the Columbia Orchestra in his sixteenth year as Music Director. The Baltimore Sun has called the Columbia Orchestra "Howard County's premier ensemble for instrumental music," noting that "Love has the musicians playing not only with verve and passion, but with an awareness to enter into the emotional core of the works they perform."
Since 1984 Kinetics Dance Theatre has worked as a non-profit modern dance resource. Founders Dorothy Fried, Stephanie Simmons, and Keith Nichols launched KDT to promote dance through performance and to offer high quality dance education to students of all ages.
"This performance is going to be magical, magnificent -- visually and musically," said Randi Benesch, Managing Director of the Gordon Center. "Peter and the Wolf is a classic children's story. The instrumental arrangements are bold and fantastic, and with so many wonderful characters moving about the Gordon forest, dodging the Wolf, our children will be at the edge of their seats, amazed."
Sponsored by BGE and by The Katzner-Panitz Family, tickets are $10 in advance; $12 at the door, and may be ordered online at http://www.gordoncenter.com. The Gordon Center is located on the campus of the Rosenbloom JCC at 3506 Gwynnbrook Ave., Owings Mills, MD 21117. The Box Office can be reached at 410.356.7469.
###
The Peggy and Yale Gordon Center for Performing Arts is Baltimore County's premiere arts destination. The Gordon Center offers an eclectic variety of professional entertainment in music, theater, dance, family programming and film. You will experience world-class acoustics in an intimate, state-of-the-art venue. Free parking in well-lit spaces, handicap accessible, and equipped with a special RF system for the hearing impaired, the Gordon Center can be enjoyed by all.