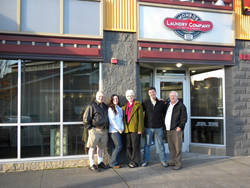 In all three essential categories we researched for coin-op equipment, Dexter came in first.
Monroe, Washington (PRWEB) February 02, 2015
Monroe Laundry Company topped the list, with Snohomish Laundry Company coming in close at number four. Both laundromats are owned by a family that loves to work together and brings years of business experience to their coin laundry's success. Brothers Tod and Jay Johnson, along with Tod's son, Scott and daughter BJ, contribute their very diverse professional expertise that maintains their place in the top ten. Tod began as a research engineer and ran a large construction company for 35 years that specialized in high-end installations and Jay, who honed his marketing and customer service experience as owner of a leading Mail Boxes, Etc., serves as the IT, marketing and operations manager. Scott spent 25 years in construction and BJ manages the operations and staff of four.
Tod Johnson tested the laundromat waters in 2007, when he added Tolt Laundry to a storage unit he owned in Carnation, Washington. The family opened Monroe Laundry in 2009, followed by Snohomish. Their construction experience has been invaluable. "The 3,000 sq. ft. masonry structure that houses Monroe was built in 1908 and had been used for three very different businesses, including a nightclub," said Tod. "The fact that it had 100 parking spaces, was the deciding factor, providing ease for laundry customers."
In addition to converting a century old building and being respectful of the building and downtown's history, the brothers spent two years researching laundry equipment, and called every laundry equipment manufacturer, interviewing them personally. "We called repair shops across the U.S., asking which was the least serviced brand and which brand sold the smallest number of used equipment," added Tod. He also applied the hard and fast rule learned in construction years, "all things being equal, buy the heaviest, which indicates the most rugged structure." In all their research, Dexter Equipment came in first in the three categories.
The Johnsons then contacted and met with WSD's Rick Magnuson and Rick Hall, who Tod values as "great resources." Together, the owners, their architect and WSD, designed the site installing 33 Dexter Express Washers (20 lb. to 55 lb.) and 30 Dexter Dryers (30 lb. to 80 lb.). Dexter's high-tech, coin-op laundry equipment, among the fastest and most efficient in the industry, washes customers' clothes in far less time, allowing them to get back to their busy work and family priorities. The Dexter Express line uses less gas and electricity, lowering owners' expenses. Its Express Washers boast a powerful 200 g extraction force which means laundry retains less water and dries faster, which can be passed on to clients.
Both top-ten Western Washington laundromats exemplify the "clean, bright and safe" experience for customers. Moisture is kept to a minimum with features like steel-faced walls and air-filtering and the Johnsons stay current by participating in Dexter's technical training opportunities. In addition to the finest, well-maintained Dexter Coin Laundry equipment, the laundromats offer Wash 'n Fold service (drop off and pick up), one-hour turnaround time, granite-topped folding tables, Wi-Fi, flat-screen TVs (featuring rotating customer instructions and tips), a Kids Kozy Korner, padded chairs, restrooms, snack-drink vending machines, customer lounge, computer tables, and a friendly, helpful staff.
xxx
About Monroe Laundry Company
Opened in 2009, in the downtown Monroe Historic District, Monroe occupies a building constructed in 1908. The million dollar renovation features environmentally-friendly Dexter Express equipment (laundry turn-around time of one hour), wash 'n fold and prompt, friendly service. Clients enjoy the clean, comfortable safe environment, a customer lounge, Kids Kozy Korner, coinless washers/dryers, granite-topped folding tables, Wi-Fi Internet and flat screen TVs. http://monroelaundry.com, http://snohomishlaundry.com/
About Western State Design
With 37 years' experience as a premier, full-service distributor to the coin-op laundry industry, Western State Design has grown to become one of the largest coin laundry equipment distributors in the world. Western State Design is proud to be a Dexter Authorized Distributor, and has been recognized as the No. 1 Dexter Distributor Worldwide from 2009 to 2014. Dexter Laundry located in Fairfield, Iowa, is an employee owned leading manufacturer of commercial laundry equipment. All equipment is manufactured in Iowa. Visit WSD online at http://www.westernstatedesign.com or call toll free at 1-800-633-7153. Contact: Jeanne Feder, Western State Design, jeannef(at)eightohtwo(dot)com, 802-681-4329.