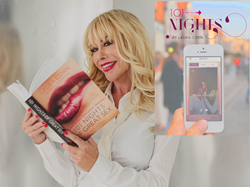 "The world's most seductive app for couples"
Santa Monica, CA (PRWEB) February 03, 2015
Just in time for Valentines Day, Laura Corn announces the release of a new interactive app for couples, 101 Nights. This new app is the result of her 20+ years spent studying the most popular seduction techniques, secret desires, and fantasies for couples.
The original book (101 Nights of Great Sex) - loved by over a million couples around the world – has found its way into the hands, hearts, and beds of folks like Gwyneth Paltrow, Heather Locklear, Sharon Stone, Ryan Seacrest, and probably that "nice, quiet couple" next door.
Now, this best-seller, with its infamous secret sealed envelopes, has been adapted into an unique interactive mobile App. It's a full seduction toolkit that fits discreetly in the palm of your hand. Every step is designed to bring creativity and anticipation into the bedroom, and everywhere else.
101 Nights is the only App that guarantees great sex twice a week, every week, for an entire year.
101 Nights, the App - will be available in Google Play starting February 2, 2015 and in the Apple App Store by Feb 7th.
Gwyneth Paltrow on goop.com - "This is not just another sex book. 101 Nights of Great Sex uses 'Secret Sealed Seductions' with special instructions for a love task or favor that each partner tears out and completes for one another. Sounds simple, but the anticipation and mystery makes even the smallest gestures pretty thrilling"
Barbara Walters - "No one knows more about the art of seduction than Laura Corn"