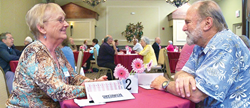 Who doesn't understand loneliness or desire or the search for love?
Suffolk, VA (PRWEB) February 03, 2015
An 81-year-old bodybuilding champ, divorced since his fifties, imagines someone new by his side; a skydiving widow dulls her loss by pursuing younger men; a grandmother and online-dating addict searches the web for Mr. Right; a romantic 79-year-old discards his portable oxygen for a sunset tango on the beach; a 1940s movie fanatic who escaped an abusive marriage still seeks her "Fred and Ginger" romance.
These stories will be told in the documentary, "The Age of Love", which will be shown at Lake Prince Woods retirement community on Friday, Feb. 6 at 7:00 p.m. The event is open to the public and free of charge.
Director Steven Loring follows 30 people in their 70s to 90s at a speed dating event in Rochester, NY.
"My desire to explore this issue began when my dad's death ended an intense half-century love affair with my mother, leaving this still-vibrant woman struggling to face a new life alone," he said. "That same year, an 80-year-old uncle who'd never even dated suddenly met a woman and they fell madly, adolescently in love."
He went on to say, "I saw an opportunity to break social and generational barriers by looking at seniors not in terms of singular talents or specific communities but through shared, human desires. By telling a story involving a universal quest, I could connect these seniors directly to the mainstream through situations to which all can relate. Regardless of age, I thought, who doesn't understand loneliness or desire or the search for love?"
The documentary has been screened at several film festivals and was awarded a Fledgling Fund grant for films that "have the potential to change hearts and minds" in American culture.
For more information, please contact Denise Brown, Resident Services Director, at 757-923-5513.
Lake Prince Woods is a residential retirement community offering an array of lifestyle choices. Located in Suffolk, Virginia, the community is nestled among 172 lovely wooded acres bordering Lake Prince. As a continuing care retirement community, Lake Prince Woods offers residential living, assisted living, memory care and skilled nursing care. To learn more, visit the website: http://www.lakeprincewoods.org.