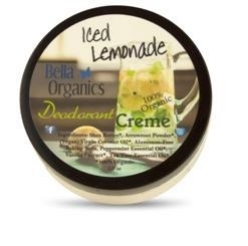 "Deodorant has become the new frontier in consumer demand for natural, chemical-free products,"
Seattle (PRWEB) February 02, 2015
By 2018, the demand for organic personal care products is expected to rise to a staggering $13.2 billion, growing almost 10% from 20121. Bella Organics' high-quality organic skincare products is answering this growing consumer demand with its natural cream deodorant leading the way as its top selling product.
Available in a variety of unique scents—including Iced Lemonade, Lemongrass Bergamot, and Vanilla Mint—Bella Organics deodorant provides freshness without parabens or chemicals like aluminum. Alena Bond, founder of Bella Organics, chooses every ingredient for each deodorant carefully.
"Deodorant has become the new frontier in consumer demand for natural, chemical-free products," said Bond. "Our cream deodorant for men and women is made without using aluminum, which blocks the natural process of sweating. Sweating is actually necessary for your skin because without sweating, your skin cannot breathe or expel toxins."
Bond notes that sweat is odorless. It is when sweat interacts with bacteria on the skin that the problem arises. Bella Organics deodorant creams are made with plant-based essential oils and extracts that naturally neutralize the bacteria that causes odor without clogging pores or suppressing sweat. Cream deodorants also have a softer application, last longer and do not crumble or leave residue.
Bella Organics deodorants are additionally cruelty free, vegan, gluten free and made in the U.S. They contain no hormones, preservatives or pesticides.
The company prides itself as much on what is in its products as what is not. To make each skincare product, Bella Organics chooses ingredients precisely for the benefits they provide, and products are formulated to deliver a specific function for the skin.
For example, all Bella Organics deodorants are made with arrowroot powder, shea butter and coconut oil, among other natural ingredients. Organic arrowroot powder absorbs wetness naturally, while organic shea butter has anti-inflammatory properties and is a superior moisturizer. Coconut oil has natural antibacterial properties and also soothes and conditions skin.
Because of its natural, healthful properties, many consumers are beginning to catch on to the perks of organic skincare. The FDA, however, does not monitor ingredients in skincare and make-up as much as it does for food and drugs, according to globalhealingcenter.com, "thereby allowing some very harmful chemicals to be used in creating almost every product that is mass marketed. Most of these compounds are absorbed easily by the skin, yet the body has no way of ridding itself of them."2
Bond agrees wholeheartedly. That's why she's on a mission to promote the many benefits of organic skincare products. "Consumers who wouldn't dream of ingesting chemicals and artificial ingredients through their diet might not think about what they put on their skin," said Bond. "Our skin is our largest organ and absorbs whatever we put on it. We want people to reconsider their health in relation to their beauty products."
Other popular Bella Organics products include lip balm, face cream and foaming hand soap. The full line ranges from an acne serum to diaper cream. All products are available to purchase on lovebellaorganics.com.
"Our customers know that they can trust that everything in our products is right on our label," said Bond. "Bella Organics give the peace of mind that comes from products that love your skin."
1. http://www.cosmeticsandtoiletries.com/formulating/category/natural/Demand-for-Organic-Beauty-to-Grow-to-Over-13-Billion-by-2018-Report-Says-213160491.html
2. http://www.globalhealingcenter.com/miscellaneous-health-and-wellness/organic-skincare-makeup
To find out more about Bella Organics, please visit lovebellaorganics.com or reach out to the contacts below.
About Bella Organics
Bella Organics was founded in 2012 in response to a growing concern for the severe lack of all-natural and organic skincare products available. The mission statement is simple: Take care of our bodies, and in turn, our bodies will take care of us. That's why Bella Organics products will never contain water, emulsifiers, or any of the toxic or unnatural ingredients that are found today in most mass-market products. Only the best plant-based essential oils and extracts are used—each one specifically selected based on its unique botanical properties and its effect on skin.
All Bella Organics products are handcrafted locally by employees who earn a fair wage, creating a positive work environment. Bella Organics was founded on the premise of being natural and environmentally responsible, which is why packaging is comprised of 100% recyclable materials, with a goal of providing 80% of products in biodegradable containers within the next few years.
For more information about Bella Organics, visit lovebellaorganics.com.
MEDIA CONTACTS:
Alexandra Salazar
McFadden/Gavender
O: (520) 882-6262
M: (520) 820-9948
alexandra(at)mcfaddengavender(dot)com
Christina Thompson
McFadden/Gavender
O: (520) 882-6262
M: (623) 229-2597
christina(at)mcfaddengavender(dot)com
Website:
lovebellaorganics.com
###