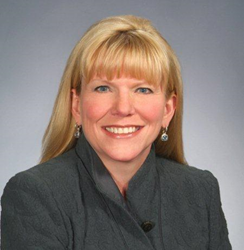 It may not seem obvious that women who service their own car or do their own woodworking can be reached in the same way as the kitchen master whipping up her next delectable menu or the millennial just learning to cook on her own
Chicago, IL (PRWEB) February 04, 2015
Kris Malkoski, President, North America and Global New Product Development, World Kitchen, LLC, will keynote the day one luncheon at the 11th annual M2W® – Marketing to Women Conference, http://www.m2w.biz, April 21 & 22, 2015, Chicago Cultural Center. Drawing on her background including marketing power tools and housewares, Malkoski will give brand marketing execs cross-category insight into marketing to today's ever-evolving female consumers.
"It may not seem obvious that women who service their own car or do their own woodworking can be reached in the same way as the kitchen master whipping up her next delectable menu or the millennial just learning to cook on her own. However, there are simple principles for reaching her that will solidify your reach and sales impact, "explained Malkoski who in a previous positon was VP & GM of Sears Holding's $4.0B Craftsman business.
"All it takes is the right dose of authentic engagement, some provocative PR, easy-to-execute solutions plus daily interaction and reach," added Malkoski. In her current World Kitchen role she manages 9 brands representing $650 million in retail sales in the U.S. and Canada. Additionally she oversees 90 retail stores, the e commerce and industrial business, and global new product development.
"Kris really has walked the talk," according to Nan McCann, M2W® producer. "She's gone from the workbench to the kitchen. She transcends product categories. With Craftsman she was the first woman to ever lead a male–dominated tools category. At World Kitchen she runs such iconic American cookware brands as CorningWare, Pyrex, Corelle, Baker's Secret, Revere Ware and Chicago Cutlery. In much the same way as she invigorates brands and businesses, I'm sure her keynote will inform, motivate and inspire every marketer at M2W®."
"In addition to Kris Malkoski, M2W® will include over 30 other speakers teaching brand marketing execs and their agencies how to improve their marketing and marketing communications to women," McCann added. "Women are today's power consumers. They account for $7 trillion of annual spending in the US, and over $20 trillion globally. More than ever before, here and in markets worldwide, women mean business."
"M2W® is annually attended by Fortune 1000 senior brand marketing executives and their agencies. The audience typically includes companies as diverse as Harley-Davidson, Bayer, Aetna, ESPN, Kraft Foods, Ford, GM, Johnson & Johnson, Kellogg, Diageo, Walgreens, Wells Fargo, NBA, WebMD, Burton, L'Oreal, ConAgra and Whirlpool. They attend," McCann said, "because they recognize the brand- critical importance of engaging women."
For complete conference schedule and information visit: http://www.m2w.biz or call 860.724.2649 x13. M2W® is produced by PME® Enterprises LLC, 912 Silas Deane Highway, Suite 101, Wethersfield, CT 06109. PME® http://www.pme-events.com is a sales and marketing agency with a special emphasis on events.