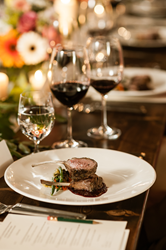 "At The Cliffs, the culinary scene our members enjoy extends far, far beyond the traditional notion of 'the country club lifestyle."
Travelers Rest, S.C. (PRWEB) February 03, 2015
Two key members of The Cliffs' food and beverage team have passed major certification exams on their road to becoming Master Sommeliers. Eric Cooperman, Beverage Director for The Cliffs Clubs, successfully achieved the certification of Sommelier by the Court of Masters, which marks his halfway point to becoming a Master Sommelier. Tim Smith, Restaurant Manger at The Cliffs at Walnut Cove, recently passed the Introductory Sommelier Course exam, which completes the first level of the Master Sommelier program.
"Eric and Tim bring an immense amount of knowledge and experience to our clubs," states David Sawyer, Managing Director of The Cliffs Clubs. "From gourmet wine dinners, tasting events, panel discussions and Eric's weekly Wine Consortium, their expertise is evident and we are extremely proud of their most recent accomplishments."
There are four levels of the Court of Masters Sommeliers' educational program and it takes years to achieve the Master certification. Students dedicate hundreds of hours practicing wine service and identifying wines in blind taste tests. The Certified Sommelier Examination is a one-day exam given in three parts: a blind tasting of two wines, a written theory examination, and a practical service examination. There are only 140 Master Sommeliers in North America and 219 professionals worldwide who have received the title of Master Sommelier since the first Master Sommelier Diploma Exam.
The Cliffs wine revenues are up 131% over last year and its new weekly Wine Consortium program sold over 560 cases of wine to Cliffs Members from January – August 2014, greatly contributing to this increase. Additionally, The 2014 Cliffs Wine+Food Festival featured six sold-out events held at five of its clubs and generated over $50,000 in wine sales. Plans are underway to expand the festival and Wine Consortium in 2015.
"At The Cliffs, the culinary scene our members enjoy extends far, far beyond the traditional notion of 'the country club lifestyle. The knowledge that Eric and Tim share helps them to better understand the needs and wants of the Cliffs members, making it easier to identify the clubs' culture," adds Sawyer. "A full understanding of the world of wine will allow them to tailor the beverage program to the members' favor. And starting this month, Eric, along with Tim's help, will begin evaluating and exposing other Cliffs hospitality professionals to this knowledge with an opportunity to participate in the program starting in January 2015."
About The Cliffs
The Cliffs is a collection of seven premier private, luxury mountain and lake communities located in the Blue Ridge Mountains of the western Carolinas, between two of the nation's top award-winning cities for quality of life - Greenville, South Carolina and Asheville, North Carolina, and Clemson and Furman Universities. Through one membership, Cliffs members enjoy access to events, activities and amenities at all seven communities including seven championship golf courses, five wellness centers, 21 restaurant and private event venues, clubhouses, marinas, beach club, tennis complexes, equestrian center, hiking trails, wine clubs, an organic farm and more than 1,000 year-round social activities creating timeless experiences. Homes at The Cliffs range in price from $500,000 to $4 million+; homesites, from $100,000. For more information about The Cliffs, visit CliffsLiving.com or call 866-411-5771.