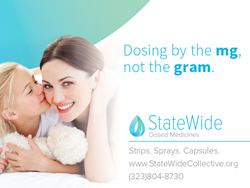 Santa Monica, California (PRWEB) February 04, 2015
Although when most people think of medical cannabis, they think of smokable products and edibles, there are sources of consistent measured dosage cannabis products that are delivered in a medical form. Statewide Collective offers a wide range of consistent measured dosage ratios of CBD and THC products to members of all ages, treating a wide range of conditions from cancer and epilepsy to anxiety and insomnia.
In an article published Dec. 23, 2014 in the Houston Chronicle, Dr. Andrew Weil was quoted as saying "A lot of doctors are not going to be comfortable telling you to smoke something," noting that standardized medical cannabis products aren't available here. "In England, there's a product called Sativex that's a whole cannabis extract that you spray under the tongue that gives a measured dose, and it looks like a medical drug - that's something doctors would be comfortable telling their patients to use."
The products Dr. Weil mentions the need for are exactly what StateWide Collective is providing, here, in California. There is a large portion of the population that is looking for alternative or complementary therapy relief from various conditions who do not smoke, and want the assurance of using a product that is tested and delivered in a traditional medical form. The demand and acceptance for cannabis therapies is growing and is showing successful results in patient treatment.
To learn more about the products offered by StateWide Collective and how to become a member, visit http://www.statewidecollective.org.
About StateWide Collective:
At StateWide, physicians, chemists and other health care professionals work together to provide affordable and dosable medications.
StateWide believes that cannabis medicines are generally best taken in a dosed manner - as with all other medications we take. Cannabidiol (CBD) and THC dosed medicines are grown organically, plants tagged, processed by Super Critical CO2 gas extraction and are fully laboratory tested for dosage. Every dose you take will be consistent.
The collective is closely affiliated with a unique group of physicians, researchers, chemists and genetics specialists, all dedicated to the creation of dosed, tested and effective cannabis medicine.