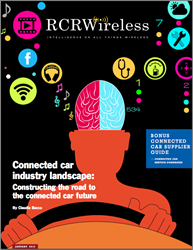 The connected car is the intersection between our left and right brain – logical thinking and emotion. - Claudia Bacco, RCR Wireless News EMEA Managing Director
Austin, Texas (PRWEB) February 03, 2015
The connected car is one of the most talked about topics in today's tech news. It's being heralded as one of the key growth areas for both the automotive and telecom industries. As telecom operators struggle to find new customers and stem the tide of declining revenues, where does one look for new customers? The car is a key element to the massive growth expected from the Internet of Things.
This latest report, 'Connected Car Industry Landscape: Constructing the Road to the Connected Car Future,' is intended to help make sense of how the different segments in this market work together and the implications of these relationships. It will also look at the challenges that are currently in the market that could hinder the speed of adoption of these topics. So the question emerges, what is a connected car? Do potential customers understand this concept and want these services? Who are all of the players in the industry and how do they work together? What are the key categories within this space? Twenty-six companies from the connected car landscape participated in interviews to help formulate the trends shared in this report.
Download this report to learn:

How the landscape currently aligns within the many topics included under the Connected Car Umbrella
How the landscape may evolve over the next 12 - 18 months
Examples of key players within each category
Linkages between the different categories and how they do and might evolve over time
Watch the complimentary editorial webinar featuring:

Claudia Bacco, Managing Director - EMEA, RCR Wireless News
Andrea Sroczynski, Head of Region Germany (DACH) and Head of Global Automotive Sales, Telenor Connexion
Christof Hellmis, Vice President, Platforms Office, HERE
David Jumpa, Chief Revenue Office, Airbiquity
"The connected car is the intersection between our left and right brain – logical thinking and emotion," said RCR Wireless News Managing Director – EMEA Claudia Bacco. "What could be more exciting then to have all this come together in one mobile experience? The future is about mobility and the car is just one way to enable this. There are many challenges and lots of cross industry relationships that need to change, but the connected car universe holds the promise of changing the way we live in a way no other technology area has in recent years. No wonder there is so much excitement, growth opportunity and interest in this space."
Download the report for free here.
About RCR Wireless News
Since 1982, RCR Wireless News has been providing wireless and mobile industry news, insights, and analysis to industry and enterprise professionals, decision makers, policy makers, analysts and investors. Our mission is to connect, globally and locally, mobile technology professionals and companies online, in person, and now on video. Our dedication to editorial excellence coupled with one of the industry's most comprehensive industry databases and digital networks leads readers and advertisers to consistently choose RCR Wireless News over other industry publications. http://www.rcrwireless.com