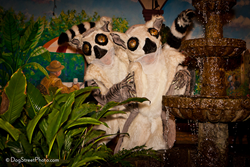 'For me, the province of dance is to speak that which cannot be spoken. Make the invisible, visible.' - Alice Farley
Myakka City, FL (PRWEB) February 05, 2015
The Alice Farley Dance Theater will perform at Lemur Conservation Foundation's 'An Evening of Lemur Love' benefit on 12 February in Sarasota, FL.
Art of all kinds, including dance, is an important part of LCF's education and outreach efforts. The Alice Farley Dance Theater's 'Enchanted Lemur Performers' will engage the audience with original choreography, helping to inspire love of lemurs and concern for their conservation status.
The Alice Farley Dance Theater performs at venues from the Andy Warhol Museum, to Wildlife Conservation Society's Bronx Zoo, and the World Financial Center Winter Garden. At LCF's event, the dancers will perform in lemur costumes so perfectly fitted they are sewn into them, and wear 'bouncy shoes' to emulate lemurs' unique locomotion through interpretive dance.
Like Ms. Farley, LCF believes that art is a uniquely important part of articulating complex messages, and is an access point for application of high-level skills in problem solving and the expression and comprehension of complex issues.
Besides raising funds for the conservation of lemurs, the evening will raise awareness of lemurs and their conservation status. Conservation status reports from the 'The International Union for the Conservation of Nature' show lemurs to be most endangered primates in the world. Follow this link to join us for 'An Evening of Lemur Love' with the Alice Farley Dance Theater.
ABOUT LEMUR CONSERVATION FOUNDATION: Lemur Conservation Foundation (LCF) is situated on 100 acres of pristine, old Florida habitat in Myakka City. You will find gopher tortoise, cranes, and other native plants and animals at home there along with our lemur colony. Today, our lemur population represents six species of lemurs, five of which are considered endangered or critically endangered. The lemurs thrive in our naturalistic, free ranging, multi-species, 9 to 13 acre forests, living much like they live in Madagascar, their only endemic home. There are also smaller enclosures for animals in need of a more specialized environment.
LCF was founded in 1996 by Penelope Bodry-Sanders with a mission dedicated to the conservation and preservation of lemurs, the primates of Madagascar, through programs dedicated to observation oriented research, education, and lemur propagation, with a commitment to infuse art into all of our programs. An American Association of Zoos and Aquariums accredited facility, LCF s a respected voice for science, conservation, education, art, and lemurs, the iconic image of the conservation challenges and environmental stewardship facing Madagascar and the world.