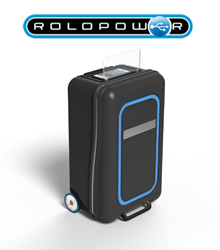 "End the search for that elusive power outlet in public! Rolopower carry-on recharges your phone or mobile device while you walk to your gate. PLUS many SMART travel features!"
Toronto, Ontario, Canada (PRWEB) February 03, 2015
Rolopower has launched an Indiegogo crowdfunding campaign with a funding goal of $50,000, which is being raised to bring their ingenious "smart" carry-on case to market. The Rolopower carry-on combines a stylish, attractive design and several innovative smart features with USB power generating and storage technology. It is capable of charging a user's phone or other portable device such as a tablet, iPad, eBook, etc. several times. Anyone who has ever traveled has had to deal with the headache of pushing through an airport crowd in search of an available charge station or power outlet. However, with Rolopower this is no longer an issue. As the inventors state, "With Rolopower you can continue walking past all of the crowds and head straight to your gate, take a stroll or do your last minute shopping."
While there are similar items, Rolopower is far superior in many ways and costs a fraction of the price associated with the inferior products. With Rolopower there are no moving parts or gears, and all of the power is self-generated with 2 separate dynamos for extra power and efficiency which means you do not need to plug in or pre-charge the carry-on. The inventor states, "When you pull the Rolopower carry-on, the wheels rotate and immediately start generating electric power. This power is then stored in a large internal battery which is capable of recharging your phone several times. This way you can charge your phone anytime, even when you are not walking." The best part of all is that the power generating features do not take up any valuable space inside of the case, and a user can also recharge the battery externally using a powered USB connection.
Rolopower is currently available in four accent colors, which are seen on the front, the phone holder and the wheels with matching LEDs that light up to show that power is being generated and stored. The traveler's phone charges inside of a clear case located on top of the carry-on, which means they can easily see all messages or incoming calls. Rolopower is also a "smart" case, and comes with a free downloadable mobile app that connects with the carry-on via Bluetooth. Among other things, this app allows a user to monitor their walking maximum, current speed, and distance traveled. The team even "decided to add the ability to check the status of each generator such as the RPM and voltage being generated" for all of the "smart geeks out there". Several smart features that will be added at different milestones in the campaign include: a built in weight scale, real GPS location and tracking, App controlled locking/unlocking feature and much more. The team plans on introducing more smart features in the future.
With all of the essential groundwork completed for the Rolopower carry-on case, the team is ready to begin the next phase in development which is why they have launched their Indiegogo crowdfunding campaign. All of their supporters will be able to pre-order a Rolopower at a greatly reduced retail price from a single case to a reseller pack. The team is also running a referral competition in which the top 5 referrers have a chance to win a free Rolopower. Full details can be found on their campaign page.
About Rolopower:
The brilliant minds behind Rolopower are a group of professionals in connection with a professional industrial design house. They are all specialists in their own field from designers, to engineers and have been hard at work on this idea for several months.
To learn more about the Rolopower crowdfunding project Click Here
For more information about Rolopower Click Here
To contact via email write to Marwan Aboukhater at: marwan(dot)aboukhater(at)rolopower(dot)com