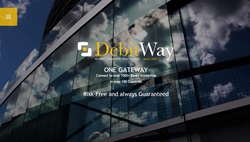 We provide online debit payment processing services the world over, changing our website to a .COM is simply a logical progression
Montreal, Quebec (PRWEB) February 04, 2015
DebitWay, the Montreal, Quebec based alternative payment service provider has been diligently providing payment services to a plethora of online industries for over a decade. The Canadian based PSP has expanded its online reach during the company's 10+ years of service and as such what was once DebitWay.ca has evolved into DebitWay.com as of today.
DebitWay initially began its foray into the internet payment service processing world by offering electronic merchants (eMerchants) certified online debit payment management. INTERAC® Online, which enables consumers to shop securely using debit at Canadian online merchants, is facilitated through online payment service providers, such as DebitWay. As a result, DebitWay launched, fostered and nurtured a .CA url address: DebitWay.ca.
However as the years progressed, what was once a small targeted alternative payment service provider, DebitWay grew as a company and subsequently the nature of its partners needs grew as well. With the aim of maintaining a strong partner portfolio and continuing to grow its client base, DebitWay expanded the payment options offered.
"Debitway.ca served its purpose and we have successfully incorporated many beneficial changes that our merchant partners requested over the years" Asserted Director of Business Development and Production Rod Tomita "Debitway.COM is the natural evolution of our online presence. We provide online debit payment processing services the world over, changing our website to a .COM is simply a logical progression."
Whereas previously DebitWay dealt exclusively in Canadian online debit transfers, the company has since grown to include the following payment methods; Direct Debit Transfer (DDT) for global online debit processing,Electronic Funds Transfer (EFT) for Canadian electronic check (eCheck) processing, Automated Clearing House (ACH) for American eCheck processing and of course the ever present Credit Card processing. In order to reflect the company's new direction and evolution, DebitWay has launched a new corporate website that will serve as the base of operations for all their payment service processing requests and information queries. What was once Debitway.ca is now Debitway.com.
Headquartered in Montreal, Canada, since 2004, DebitWay continues to be one of the world's leading Certified Payment Service Providers, as well as a Payment Provider of INTERAC® Online Payment in Canada. DebitWay merchant partners continue to benefit of being able to accept bank payments in real-time instantly.
INTERAC and INTERAC Online are registered trade-marks of Interac Inc. Used under license.