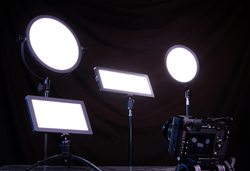 Waukegan, IL (PRWEB) February 03, 2015
Fotodiox Pro, creator and distributor of several lines of specialty LED lighting solutions for videography, cinematography and photography, has announced a permanent price reduction on its innovative series of FlapJack LED Edgelights. From now on, customers can purchase the C200-S and C200-R for $70 off the original price, while the C300-R and C200-L are a full $100 off the original price.
The FlapJack LED Edgelights are known for their remarkably thin structure and edge-mounted LEDs that aim inward at a diffusion disc, resulting in a soft, flattering glow. Their aluminum construction and portable size makes them a lightweight and durable source of illumination, attracting the attention of professionals around the globe. Says LA Times photographer Robert Lachman, "[The FlapJack] is exceptionally thin except for the battery connected on the back. It's easy to connect to a light stand using the standard 1/4-20 tripod mount and can easily fit in any light situation, especially if you're in a restricted work space. This light will fit in anywhere without much effort. It also produces a nice clean glow without any hot spots."
Fotodiox Pro created the FlapJack LED Edgelights to meet the "run-and-gun" shooting style that is increasingly present in both film production and photography. Each light arrives at customers' doors in a fitted case with a set of power and mounting accessories – including a lithium-ion battery, battery charger and AC adapter – making them a complete, ready-to-go solution right out of the box. Best of all, the new prices for each model in the FlapJack line make it all the more possible for filmmakers and photographers to create new looks with a flexible, constant light source.
Pricing & Availbility
Each FlapJack LED Edgelight model comes complete with a lithium-ion battery, battery charger, AC adapter, car adapter and mounting ballhead – all in a fitted case with a handle. They are available immediately at the following new prices:

LED C200-S (5"x8" square) - $179.95
LED C200-L (4"x11" rectangle) - $199.95
LED C200-R (7" round) - $229.95
LED C300-R (10" round) - $299.95
To learn more about the FlapJack LED Edgelights, their components or additional photography and videography accessories, please visit FotodioxPro.com.
About Fotodiox
Serving the photo and video markets since 2004, Fotodiox Pro is a leading manufacturer and distributor of high-quality, professional and affordable photography and videography accessories. Fotodiox Pro is known for its WonderPana mounts and accessories, Vizelex line of high-end camera systems and adapters, and the ever expanding line of award-winning GoTough accessories for GoPro cameras. The company also markets a full line of specialty lighting equipment, including LED light panels, flash strobes and wedding photography kits, daylight fluorescent lighting, tungsten lighting and video lighting kits, and the award-winning LED 100WA. For more information about Fotodiox Pro, please visit http://www.fotodioxpro.com, http://www.youtube.com/user/FotodioxInc, http://www.facebook.com/Fotodiox and http://www.twitter.com/Fotodiox.