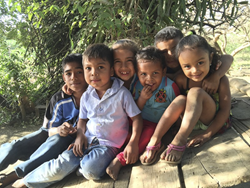 San Antonio, Texas (PRWEB) March 16, 2015
King's Ransom Foundation and Dani Johnson have teamed up once more to lift more than 400 individuals in Nicaragua, the second-most poverty-stricken country in the Western Hemisphere, out of their unsafe and destitute conditions in the Santa Pancha village.
Best-selling author and world-renowned public speaker, Dani Johnson, and longtime charity partner, King's Ransom Foundation have an established track record in similar charitable efforts. In 2014 they fed over 492,000 orphans, brought clean water and aid to Haiti and helped build a school in India. This year, they hit the ground running.
Currently, more than 400 citizens live in the Santa Pancha zone in ramshackle hovels situated on top of old mining tunnels, and exist in a state of constant fear their housing will collapse or sink at any moment. Residents have to choose between walking to work to provide food for their family and staying in their homes to make sure their kids and homestead do not fall prey to a collapse.
Through the proposed construction of a community center and double-unit homes with sanitation, access to potable water and sustainable chicken farms, the impact will be felt for generations to come. The current fundraising goal is already almost complete, gaining massive support in just a few short weeks. Individuals interested in supporting the cause can donate or visit King's Ransom Foundation for more information and donations.
About Dani Johnson and King's Ransom Foundation:
Dani Johnson grew up on welfare, pregnant at 17, homeless at 21 and millionaire by 23. Dani simplified her multimillion-dollar expert business, money and relationship secrets into easy-to-follow methods, helping tens of thousands worldwide achieve remarkable results. She has done 100s of TV, radio and print interviews such as "The Oprah Winfrey Show," "Good Morning America," "Forbes," "Wall Street Journal" and season premier star of ABC's "Secret Millionaire." As owner of 5 companies, wife, mother of five, grandmother of five, author, international speaker, and syndicated radio show host, Dani and her family have a deep passion for taking care of thousands of orphans, widows and the sick all over the world. She uses her public platform to globally mobilize others to support causes like the King's Ransom Foundation and its various charitable partners.
King's Ransom Foundation is a non-profit 501(c)(3) charity currently supporting many individuals and ministries around the world to provide food, shelter, water, medical aid, education and life skills. The Foundation and its volunteer board members share common values for responsible stewardship, financial accountability, openness and disclosure.
###