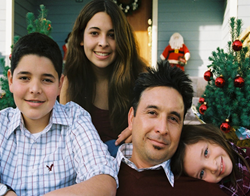 San Diego, CA (PRWEB) February 02, 2015
Men's Legal Center is a law firm dedicated to helping men deal with the realities of divorce and single fatherhood. Now, Men's Legal Center is honoring Richard "RJ" Jaramillo as a Great Dad. Mr. Jaramillo, who operates both http://www.SingleDad.com, a lifestyle website for newly-divorced fathers and http://www.CookLikeADad.com, a site dedicated to cooking for single men, has exemplified the best ways to handle single fatherhood. He freely shares his wisdom and experiences with other divorced fathers, offering support and friendship to those who may need his help.
RJ explains the circumstances that led him to advocate for other single fathers. "In the year 2000, I was a newly-divorced dad with a newborn, a three-year old son and a five-year old daughter. Over the course of 15 years, I made plenty of mistakes as a single parent; however, I never lost my faith or my courage to move forward in growing and developing into that father my children needed."
RJ shares five key points that have molded him into being a better father. First, he says that it is important for dads to remain healthy. Overeating, drinking and smoking are habits that will ultimately result in loss of time with family. RJ says, "In the six months after my divorce, I found myself winding up in the hospital with 'walking pneumonia.' That moment made me realize that I can't raise a family from a hospital bed. I have to take care of myself so I can take care of my children." Besides avoiding bad habits, RJ advocates getting plenty of exercise and sleep.
Additionally, RJ says that cultivating a listening habit is essential to building a strong relationship with children. "We are given two ears and one mouth; it is important to maintain the 2-1 ratio of listening twice as much as we speak. Most of the time, our children want us to hear them," says RJ. "As men, we try to jump in and 'fix or rescue' situations when all we really need to do is take a step back and assess the situation. Being a better listener has helped me develop closer relationships with all three of my children. I have also realized that being a better listener has gained me their trust and they can talk about anything."
RJ also advocates learning new skills such as cooking. Although he had no cooking experience at the time of his divorce, he gradually learned and allowed his children to cook with him, sharing quality family time and creating healthy meals. He also advocates being comfortable with new and different things and accepting change. "Anticipation is often worse than realization. Change is always present in your life. Further, I have come to believe that everything that happens in your life is for a reason and helps you to grow." RJ recommends therapy or journaling to deal with fears and frustrations.
Finally, RJ relies on his "Wing Man" to help him with many situations, including dating. RJ is now happily remarried thanks in part to the help of his friend, and he stresses the need for divorced men to have strong support systems in place.
RJ has a 21-year-old daughter who is majoring in Biology at UC Davis, a 19-year-old son who is a freshman at Ole Miss and a 15-year-old daughter who is a freshman at Scripps Ranch High School and a member of the Air Force ROTC. He also has custody, along with his wife, of her 12-year-old daughter whose father is deployed in the Navy.
This Great Dad sums up his thinking about parenting simply. "I think the most important thing is to be both verbally and emotionally supportive. I see many parents 'pushing' their children instead of allowing them to make their own decisions and 'being there' when and if those decisions or directions don't work."
Men's Legal Center honors RJ as a Great Dad for his dedication to his children as well as his work with other single fathers.
If you know a Great Dad that you would like to see recognized for their dedication to being an outstanding parent, please let us know by sending an email to: info(at)menslegal(dot)com.
About Men's Legal Center: Men's Legal Center is a law firm in San Diego, CA that helps men who are facing divorce with legal advice on custody, child support and property settlement as well as other family law issues.