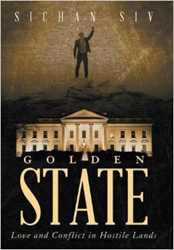 "The new president in Golden State will have more problems to deal with than he could ever imagine."
New York, NY (PRWEB) February 03, 2015
Imagine the President of the United States involved in a relationship so risky, that it puts the nation's security at stake.
On the eve of his inauguration, President-elect Bill Kartona greets his national security adviser with a passionate kiss, leads her into the bathroom and closes the door. A potentially scandalous presidency begins.
In this political thriller, a weak president relies on a Texan to curb the powerful leaders before they destroy each other and the planet. A romance is rekindled between the cowboy and his former French lover. Time will tell if love will triumph over conflict.
In his new book, Golden State, Sichan Siv delves into political scandal like we haven't seen before.
"The new president in Golden State will have more problems to deal with than he could ever imagine," the writer says.
He is the bestselling author of Golden Bones. "After writing a bestselling memoir I wanted to turn to a work of fiction, drawing from a combination of experiences and imagination," says Siv.
Sichan Siv is a genocide survivor, making it from the Killing Fields to the White House in 13 years. He is the first American of Asian ancestry to be appointed Deputy Assistant to the President of the United States and the first American of Southeast Asian ancestry to be appointed UN Ambassador. Siv has traveled to more than 100 countries and has interacted in a myriad of cultures around the world.
Golden State
By Sichan Siv
323 pages
Available at http://www.amazon.com and http://www.barnesandnoble.com.
About the author
Sichan Siv holds a master of international affairs from Columbia University. He was a US ambassador to the United Nations and deputy assistant to President George H. W. Bush. Sichan and his wife Martha spend their time in New York, Texas and beyond. He is also the author of the bestselling Golden Bones.