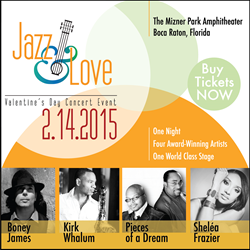 It is going to be a sexy night under the stars...Jazz and Love is bringing back the love of jazz." - Gina Martell, Host of Sunny Morning Jazz on 107.9 FM (Miami, FL)
South Florida (PRWEB) February 03, 2015
Bryson Entertainment today announced it is expanding its South Florida reach with several local additions to the Jazz and Love concert series lineup and experience. One of Miami's hottest funk/jazz bands, Deep Fried Funk, will open for the concert's star-studded line up and two popular South Florida radio personalities, Jill Tracey and Gina Martell, have signed on to co-host the show. The concert has also partnered with local jazz hot spot Jazziz as its restaurant partner and Uber South Florida as the concert's mobile app transportation partner.
Jazz and Love will take place at Mizner Park Amphitheater, in Boca Raton, on February 14 at 6:00 p.m. Headliners for the show include award-winning contemporary jazz musicians Boney James, Kirk Whalum, Pieces of a Dream and Sheléa Frazier.
Jazz and Love Partners
Recent partnerships between Bryson Entertainment and local live music venue Jazziz Restaurant and Lounge and mobile app transportation partner UBER will enable Jazz and Love concert goers to have a complete Valentine's Day experience.
Jazziz Restaurant and Lounge has been a hub in South Florida for Jazz. Jazziz will be the official restaurant partner for Jazz and Love. "We look forward to working with the Jazz and Love team who share our vision of creating an unprecedented energy and excitement to Mizner Park by presenting world-class talent." said Michael Fagien, co-owner of Jazziz.
In addition, in the final two weeks before the concert, Bryson and UBER will launch contests to give away free Uber rides to concert goers so they can have a stress-free night out without worry about driving and parking, creating the perfect evening. "This is one of the most romantic nights of the year, and our UBER collaboration will only make this night even more special for concert attendees. I encourage Jazz and Love fans to take advantage of the opportunity to get a lift to the concert using UBER," said Vanessa James, Bryson Entertainment spokesperson.
New To the Line Up
Grammy nominated guitarist David "Jody" Hill and his band, Deep Fried Funk, will be the opening act for Jazz and Love. "Deep Fried Funk is a fan favorite and we wanted to take the opportunity to showcase artists from South Florida who could hold their own with the incredible talent we have already assembled for Jazz and Love," said Vanessa James, Bryson Entertainment spokesperson.
Hot Jazz, Hot Co-Hosts
Jill Tracey, of "Love Life and the 411 with Jill Tracey" on Miami's hottest R&B radio stations, HOT105 FM, and Gina Martell, a longtime South Florida radio personality and host of the Sunny Morning Jazz show on Sunny 107.9 FM, will be the official co-hosts of Jazz and Love.
Tracey, a serious jazz enthusiast and a media maven who also writes the popular blog MiamiSoul.com and Miami.com, will engage fans with fun and interactive moments between sets. "I am so excited about spending this special night at Mizner Park with some of the best artists in jazz," said Tracey.
Martell, a jazz aficionado and radio veteran, will round out the show with her celebrated voice as host to Jazz and Love. "I could not be more thrilled that Jazz and Love will be launching in South Florida with an awesome line up that is perfect for Valentine's Day. It is going to be a sexy night under the stars I am looking forward to seeing my listeners and jazz lovers, Jazz and Love is bringing back the love of jazz," says Martell.
To find out more information about Jazz and Love and Bryson Entertainment, visit: http://www.jazzandlove.com. For event updates, artist news and concert promotions follow Jazz and Love on http://www.facebook.com/jazzandloveconcerts or http://www.twitter.com/jazzloveconcert. Tickets are now on sale now and can be purchased at: http://www.jazzandlove.com/tickets.
For media inquiries contact: Jessica Manning @ 404.313.7602 or jessmanningpr(at)gmail(dot)com
About Bryson Entertainment:
Bryson Entertainment, LLC is an independent, privately-held concert promotion company based in Fort Lauderdale, FL. Our company was founded by music enthusiasts who started promoting concerts back in the early 1990s and never looked back. Today, Bryson Entertainment is on the fast track to becoming one of the premier jazz concert promoters in the United States. What sets us apart from other promoters is our distinctive approach to providing more than just the music – we deliver an experience unlike any other. We call it Music Immersion™ and we invite you to experience jazz in a whole new way.