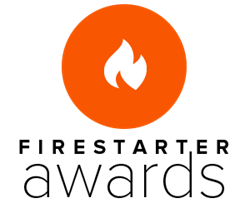 We wanted to take the time to acknowledge the best of the best in a number of categories." - Jeremy Goldman, Firebrand Group Founder & CEO
NEW YORK, NEW YORK (PRWEB) February 03, 2015
While football finally has a championship winner, awards season is only beginning for the best digital practitioners out there.
Today, digital think tank Firebrand Group announced the first annual Firestarter Awards, devoted to recognizing digital excellence across a number of areas. Categories include: Social Media (Brand), Social Media (Personality), Website, Apps, and Innovation. To participate, voters may visit: http://firestarter.firebrandgroup.com from now until February 24th. Participants are allowed to vote once every 24 hours per award.
Firebrand Group created the Firestarter Awards in order to acknowledge those who are doing quality, winning work and are at the forefront of digital innovation. We consider ourselves trailblazers who help our partners cut through digital "noise" to attract and excite followers, create engaging and meaningful interactions, and stand out as vibrant, successful, and distinctive in a competitive marketplace. This expertise has placed Firebrand Group in a unique position to recognize those who are doing an exceptional job at digital marketing.
"We wanted to take the time to acknowledge the best of the best in a number of categories," explained Jeremy Goldman, Firebrand Group's Founder & CEO. "Do you know how many long nights these guys spent brainstorming and executing to get to where they are? It's not easy being stellar. These teams and individuals deserve awards, and cake. Lots of cake."
"Firebrand Group has a simple philosophy: brands need the best possible expertise to succeed in the competitive online space," added Gabrielle Zigi, Firebrand Group's Director of Digital Marketing. "Social media changes daily, and we enable our clients to utilize, creatively and effectively, those technologies to establish meaningful emotional connections. There were so many cutting-edge launches in 2014, and the Firestarter Award Nominees represent the crème de la crème."
ABOUT FIREBRAND GROUP: Firebrand Group is an energetic, interdisciplinary team of digital marketing experts, social media savants, and creative specialists based in the quaint farming village of New York, NY. Established in 2012, Firebrand partners with Fortune 500-level brands and high-growth startups to tell their stories through digital channels. For a full list of services offered and a list of brand partners, please visit: http://www.firebrandgroup.com/services/.
###
INTERVIEWS AVAILABLE UPON REQUEST