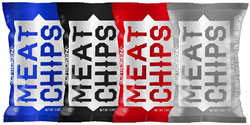 "This is a new category- stores don't know if they should put us next to the beef jerky, Doritos, or in the health food aisle."
Tempe, Arizona (PRWEB) February 04, 2015
A new snack chip hit the marketplace revolutionizing the standard corn tortilla chip. Meat Chips combines ground corn and white chicken meat into a seasoned gluten-free protein packed chip. Stripped away are all the unnecessary fats, chemicals and extractions and what's left is an astounding 21 grams of protein in a tasty 2.6 ounce grab bag.
Founder, Danny Fillmore, knows that despite healthy options like fruit or raw nuts people will still gravitate towards junk food…simply because the flavor tastes great: "I like junk food as much as the next guy; in fact, I like it so much that it's the inspiration behind Meat Chips." This is why Meat Chips is a product of eight years of research and development. For the 31-year old, it was crucial to get the flavor and the crunch just right. Currently Meat Chips offers four flavors: Pepper, Nacho, Salsa, and Ranch.
"This isn't a health food company," says Fillmore. "We're a snack food company. We focus on using real ingredients and flavors that make people crave this stuff. Our goal is to make people love us for the taste, and then benefit from the ingredients."
And Meat Chips does just that. Sure, Meat Chips is a no-brainer snack for the athlete; it's also a great bite for the mom on-the-go. Meat Chips is a clean source of fuel for the kids pre-game snack or dance class, it's also a great mid afternoon pick-me-up snack.
"It's interesting," says Fillmore. "The biggest hurdle I have is not getting on retail shelves…but which retail shelves. This is a new category- stores don't know if they should put us next to the beef jerky, Doritos, or in the health food aisle."
Meat Chips retails for $2.99 per bag. Meat Chips is located and manufactured at 8350 S Kyrene Rd. Ste 103 Tempe, AZ 85284. For more information please visit the website at http://www.meatchips.com
For questions, hi-res images, sample requests, or additional information please contact Catherine Arthur, Publicist, catchy pr at Cat(at)catchypublicrelations(dot)com or (480)695-9122.